German fans fear the rise of 'plastic clubs'
The promotion of RB Leipzig to the Bundesliga has caused resentment amongst hardcore fans of traditional teams, sparking fears that "plastic clubs" could ruin the traditional culture in Germany's top flight.
RB Leipzig are backed by Austrian energy drinks giant Red Bull, who took over a soccer license and founded the club in 2009.
The team was renamed RasenBallsport Leipzig, specifically to get around a league rule forbidding teams from carrying a sponsor's name.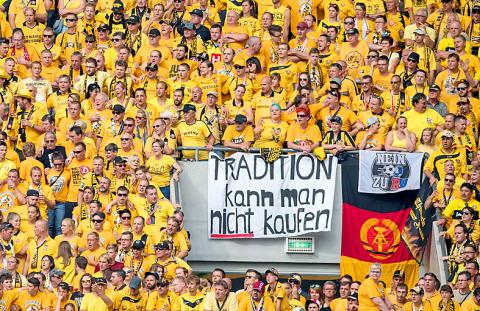 Rival fans hold banners criticizing RB Leipzig at a game in Dresden, Germany, on Aug. 20.
Photo: AFP
Four promotions in seven years has taken Leipzig to the Bundesliga and their young squad are unbeaten after six games in their first season in the top tier.
They have beaten both Borussia Dortmund and Hamburg SV, while drawing with other powerhouse clubs Cologne and Borussia Moenchengladbach.
However, their performances so far in their debut season have earned little respect from Germany's hardcore fans — labelled "Ultras."
Some Leipzig matches have been boycotted and a severed bull's head was even thrown onto the playing area for an away DFB Pokal match.
Ultra fans of Cologne blocked the Leipzig team bus for their home game last month, which led to the kick off being delayed, while banners reading "We Hate RB" were on display throughout the city.
Borussia Dortmund's Ultras boycotted their away game in Leipzig last month, with supporters' groups refusing to put their money into Red Bull's pockets.
"Red Bull Leipzig is leading the whole system of soccer to ad absurdum," filmmaker and Dortmund fan Jan-Henrik Gruszecki told broadcaster Sport1.
"Traditional clubs like Dortmund, Schalke [04], Cologne and Bayern Munich want to make money and play soccer. Red Bull want to sell a product and a brand. This is the basic difference," he said.
Hostility toward sponsored teams in Germany's top flight is nothing new, but Leipzig have crystalized growing resentments.
Ingolstadt 04, Bayer 04 Leverkusen, VfL Wolfsburg, TSG 1899 Hoffenheim and now Leipzig are all backed by wealthy companies or individuals.
None are widely popular and all are dubbed "plastic clubs."
When Wolfsburg, backed by automakers Volkswagen, played Leverkusen, sponsored by pharmaceutical firm Bayer, last season, trade magazine Kicker dubbed it "El Plastico," a play on words using the "El Clasico" reference to the Real Madrid-Barcelona clash.
Theoretically, Germany has a rule that should prevent individuals or institutions owning clubs outright.
The 50+1 rule also states that a club must hold a majority of its own voting rights.
However, Leipzig bypassed the 50+1 rule with 51 percent of the club owned by Red Bull employees — and the other 49 percent is owned by Red Bull.
"The peculiarity of the culture of soccer in Germany is that the clubs were founded as an association, in which the supporters have control of power and decisionmaking," said Jonas Gabler, an expert on soccer culture in Germany.
"The wishes and interests of the fans are taken very seriously," he said. "This interaction of fans with their clubs is an essential element of the culture of soccer. Now fans have the impression that this tradition is perverted by clubs who are created by companies."
Fans of traditional teams criticize "plastic clubs" for relying on a sponsor, who can withdraw the cash at will, and for taking the place in the top flight of a less wealthy club.
For example, Leipzig beat Nuremberg, who have a strong tradition in Germany's top flight, to an automatic promotion spot last season.
Fans also say a deterioration of the mutual respect between clubs and their supporters could lead to a rise in prices.
Comments will be moderated. Keep comments relevant to the article. Remarks containing abusive and obscene language, personal attacks of any kind or promotion will be removed and the user banned. Final decision will be at the discretion of the Taipei Times.