Work at Roland Garros halted again by court
In the latest setback to the planned expansion of the Roland Garros stadium, construction was halted again by a court decision that could affect Paris' bid for the 2024 Olympics.
Three days after France's highest administrative jurisdiction gave its go-ahead to the project, a different court ordered a new suspension of the redevelopment.
The French Tennis Federation said it was "scandalized" by a decision "taken in dubious conditions," and immediately asked the court to overturn the judgement.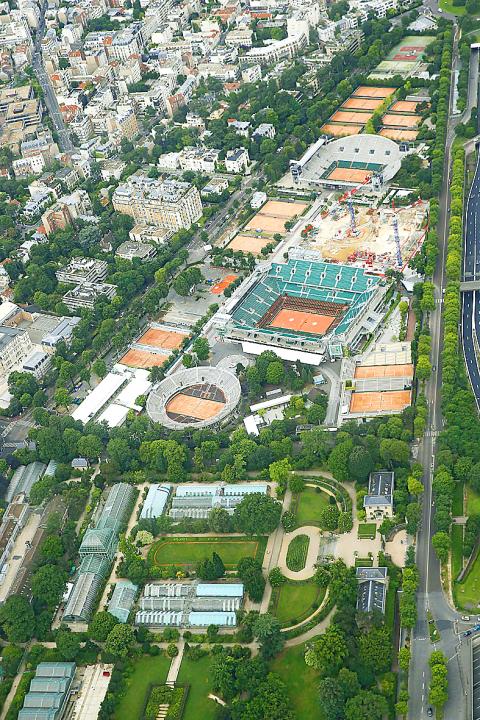 An aerial photograph shows Roland Garros and the Serres d'Auteuil in Paris on July 14.
Photo: AFP
"There is still a long way to go before 2024, but it's time to get out of this judicial muddle," French Minister of Sports Patrick Kanner said. "This is a very beautiful project, and those who say we want to destroy the Serres d'Auteuil are wrong."
The Roland Garros plans have been controversial from the start after the federation decided five years ago to keep the French Open there and renovate the site, rather than move the tournament.
In 2013, a French tribunal suspended the plans for a few months before the administrative Court of Paris' appeals chamber allowed the federation to expand into the Serres d'Auteuil.
Environmental groups opposing the Roland Garros extension claim the construction of a new 5,000-seat court in the botanical garden would harm the vegetation.
The garden's 19th-century greenhouses, a few hundred meters from center court, host a large variety of tropical and local flowers.
The latest ruling was issued late on Thursday after the heirs of architect Jean-Camille Formige — who designed the botanical gardens — asked the court to halt the project.
Construction work restarted this week following the Conseil d'Etat's ruling that overturned a court decision putting the whole project on hold.
As part of the stadium revamp, the federation is planning to build a roof over center court by 2020.
The delays could not only affect the clay-court Grand Slam, but also have a negative effect on the 2024 Games bid.
Bid officials plan to use the venue for the Olympics and Paralympics, for tennis, basketball, rugby sevens and five-a-side soccer.
The International Olympic Committee is to choose the host city next year.
A new media center is also to be constructed at the smallest venue of the four Grand Slams.
Roland Garros has hosted the French Open since 1928, welcoming about 400,000 spectators every year.
Comments will be moderated. Keep comments relevant to the article. Remarks containing abusive and obscene language, personal attacks of any kind or promotion will be removed and the user banned. Final decision will be at the discretion of the Taipei Times.