Chicago win duel against Giants in Game 1
Javier Baez blasted an eighth-inning solo home run as the Chicago Cubs won a pitching duel over the San Francisco Giants with a 1-0 victory at Wrigley Field on Friday.
The solo shot by Baez came off Giants starter Johnny Cueto and broke open a scoreless contest, allowing Cubs starter Jon Lester to take the victory in Game 1 of their Major League Baseball playoff series.
"This guy was written off as a hitter, but at times this year he has carried us on both offense and defense," Lester said of Baez.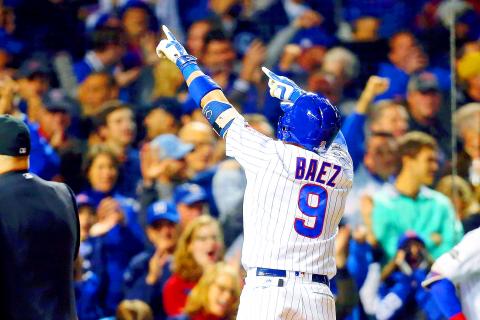 Chicago Cubs second baseman Javier Baez acknowledges the crowd after hitting a home run against the San Francisco Giants at Wrigley Field in Chicago on Friday.
Photo: Dennis Wierzbicki-USA TODAY
"Tonight with a big swing he got us on top 1-0," he said.
In the other National League playoff contest, Corey Seager and Justin Turner hit home runs as the Los Angeles Dodgers beat the Washington Nationals 4-3 in their series opener.
In American League games, Cleveland and Toronto moved to within one victory of advancing to the next round as the Indians routed the Boston Red Sox 6-0 and the Blue Jays beat the Texas Rangers 5-3.
The Cubs compiled the best regular-season record in the major leagues (103-58) in their quest for their first World Series title in more than a century.
Cubs closer Aroldis Chapman allowed a two-out double to Buster Posey in the ninth, but got Hunter Pence to ground out to second baseman Baez to seal the win and earn a save.
The victory gave Chicago a 1-0 lead in the best-of-five NL Division Series, which continued yesterday.
Cubs starting pitchers topped the major leagues this season with 81 victories and a 2.94 ERA.
Friday was no different as left-hander Lester gave up five hits, struck out five and walked none in a precision 86-pitch outing.
Lester departed for pinch hitter Tommy La Stella with two out in the eighth.
Cueto, who took the loss, otherwise had a solid, three-hit performance. He struck out 10 while walking none.
The Giants, who defeated the New York Mets in the wild-card game to reach the NL Series, are trying to stretch their run of even-year playoff magic, after winning World Series titles in 2010, 2012 and 2014.
In Arlington, Texas, the Blue Jays hit four home runs off Texas pitcher Yu Darvish and seized a commanding lead in their best-of-five series.
Troy Tulowitzki, Kevin Pillar, Ezequiel Carrera and Edwin Encarnacion all homered for Toronto off Japanese ace Darvish.
Shortstop Tulowitzki set the tone when he smacked a two-run blast in the second inning to put Toronto ahead 2-0.
The Rangers trimmed the deficit to 2-1 in the fourth, but Toronto center-fielder Pillar opened the fifth with a solo homer to left.
Carrera followed with a homer and Encarnacion ended the burst with another solo homer in the fifth that made it 5-1.
Texas scored twice in the eighth, one run coming when Carlos Gomez lined a single that hit Jays pitcher Francisco Liriano in the back of the neck.
He departed the game, but was able to walk off under his own steam and was treated in hospital before being released.
In Washington, Seager hit a solo homer in the first and Turner had a two-run shot in the third as Los Angeles defeated the Nationals.
Dodgers starter Clayton Kershaw allowed three runs and eight hits with seven strikeouts on 101 pitches over five innings.
Comments will be moderated. Keep comments relevant to the article. Remarks containing abusive and obscene language, personal attacks of any kind or promotion will be removed and the user banned. Final decision will be at the discretion of the Taipei Times.