Jaguars trying to save season, coach
A year ago, Jacksonville Jaguars coach Gus Bradley noticed the tempo and energy among his players increase as their first practice at London's Allianz Park neared an end. That effort preceded the Jaguars' first win in three appearances at Wembley Stadium, a 34-31 victory over the Buffalo Bills.
On Friday, no more than seven hours after the Jaguars touched down in their home away from home, Bradley observed a similar level of enthusiasm at practice. If the same outcome occurs today, when Jacksonville face the Indianapolis Colts, it would undoubtedly do wonders for Bradley and his team.
The Jaguars are 0-3 for the fifth time in franchise history and the second time in parts of four seasons under Bradley. A loss to the Colts (1-2), the last team Jacksonville beat, likely will not bode well for the coach's future with the team, especially with its bye week looming.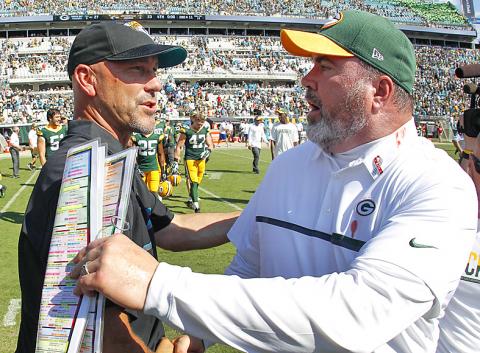 Jacksonville Jaguars head coach Gus Bradley, left, and Green Bay Packers head coach Mike McCarthy shake hands after a NFL game at EverBank Field in Jacksonville, Floriday, on Sept. 11. The Green Bay Packers won 27-23.
Photo: Reinhold Matay, USA TODAY
"I mean, I feel good every week, but just to come here and see it, especially this practice — to see it start off a little bit slow and then to see how they got their legs underneath them a little bit, even in a short time, just our focus has been really, really good — really good this week," Bradley said.
For a team trying to find any semblance of consistency, Bradley and the Jaguars' front office have done their part in making sure the schedule offers some familiarity. The team's travel and practice itinerary is the same as it was a year ago, and yesterday, when the Jaguars convened for their final walkthrough, Bradley was planning on once again giving a speech about the tradition and history of Wembley Stadium.
The Jaguars even asked for an intra-divisional matchup, only the second in what will be the 15th game in the NFL's overseas series, in an attempt to capitalize upon their familiarity — and the Colts' lack of it as first-time visitors.
"I wouldn't say it's routine yet, but you know, we have done it enough so players that have been here know what to expect," Bradley said. "But you're always going to have new players that this is the first time. [Defensive end] Malik Jackson, this is his first time going through something like this, and I think the players, being able to talk to him and being able to explain the environment, is kind of cool."
What would be even better for Jacksonville, of course, would be returning home with a victory. Teams looking to make coaching changes frequently do so as they enter the bye week, giving the staff extra time to figure out how to move on from the changes.
Bradley is 12-39 since being hired as the Jaguars' coach in 2013, but in what is shaping up as a muddy AFC South, it is not impossible to think Jacksonville could end up salvaging the season if they beat Indianapolis.
"Guys are kind of taking it upon themselves [to fix things]," quarterback Blake Bortles said.
Comments will be moderated. Keep comments relevant to the article. Remarks containing abusive and obscene language, personal attacks of any kind or promotion will be removed and the user banned. Final decision will be at the discretion of the Taipei Times.