Nationals clinch NL East title
BUOYANT BOSTON: The Mets handed Washington the title when they lost to the Phillies, while the Red Sox ensured their playoff spot by defeating the Rays
Bryce Harper and Wilson Ramos drove in two runs as the Washington Nationals defeated the Pittsburgh Pirates 6-1 on Saturday and clinched the National League East title.
The Nationals earned their third division title in five years, but they needed some help to do it as the second-placed New York Mets lost 10-8 to the Philadelphia Phillies.
"It never gets old," said Nationals outfielder Jayson Werth, who now has won eight division titles in his career. "It's such a hard thing to accomplish. You spent six months trying to do it. It's why you go to spring training early, so you can do everything possible to put yourself in position to do this. It's really special."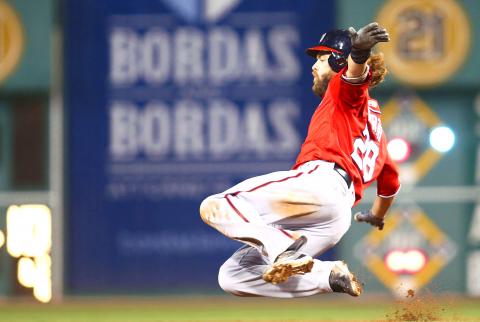 Jayson Werth of the Washington Nationals slides into second base against the Pittsburgh Pirates in their National League game at PNC Park in Pittsburgh, Pennsylvania, on Saturday.
Photo: Charles LeClaire, USA Today
The celebrations did not end with the players.
"This is what I came back into baseball for," said Nationals manager Dusty Baker, who is 67 years old. "Man, I was called back into it. This is where I am supposed to be and what I'm supposed to be doing."
Relief pitcher Reynaldo Lopez threw 5-1/3 scoreless innings for Washington.
The loss hurt the host Pirates' dwindling chance to get into the playoffs. Pittsburgh have won seven of their past 10 games but cannot afford any more losses in their final eight.
Washington's Joe Ross was making his second start since missing 66 games because of a sore shoulder.
He pitched three innings, but got pulled with two outs in the third after giving up a run. He also left the bases loaded for reliever Sean Burnett.
Ross was charged with one run and five hits in 2-2/3 innings.
Pirates starter Ivan Nova dropped to 12-8 for the season. Since starting his Pittsburgh career with five wins and no losses after being acquired on Aug. 1 from the New York Yankees, he lost for the second start in a row.
Nova gave up six runs and eight hits in four innings of work. He also hit two batters and threw a wild pitch.
In St Petersburgh, Florida, Dustin Pedroia hit his fourth career grand slam to help Rick Porcello get his major league-leading 22nd win as Boston clinched a playoff berth by extending their winning streak to 10 — their longest in September since 1949 — with a 6-4 win over the Rays.
Boston maintained a 5.5 game lead over Toronto for the division title and ensured themselves no worse than the American League's second wild card.
Pedroia stopped a none-for-17 skid with a single in the sixth and gave Boston a 6-3 lead with a seventh-inning drive off Danny Farquhar.
Porcello (22-4) gave up three runs, eight hits and struck out nine over 6-1/3 innings, while Craig Kimbrel reached 30 saves for the sixth straight season.
Ryan Garton (1-2) was the loser.
Comments will be moderated. Keep comments relevant to the article. Remarks containing abusive and obscene language, personal attacks of any kind or promotion will be removed and the user banned. Final decision will be at the discretion of the Taipei Times.