Russia, Canada set for battle on ice
Russia claimed a do-or-die 3-0 victory over Finland on Thursday to advance to the semi-finals of the World Cup of Hockey and set up a mouthwatering showdown with archrivals Canada.
Canada, who stormed through preliminary-round play unbeaten to grab top spot in Group A, will face off against Russia later today, while Sweden, winners of Group B, take on Team Europe tomorrow.
Needing a win to clinch a spot in the last four, Russia got second-period goals 79 seconds apart from Vladimir Tarasenko and Ivan Telegin, then rode the netminding of Sergei Bobrovsky to victory as they dashed Team North America's hopes of advancing.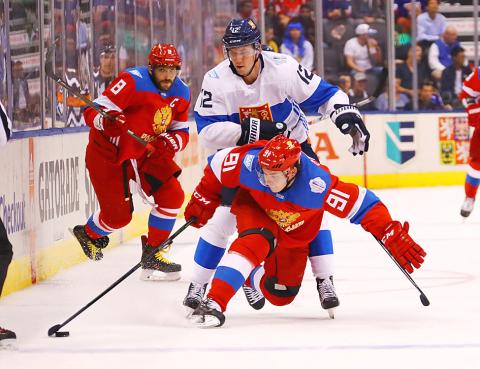 Russia's Vladimir Tarasenko, front, is tripped up by Finland's Jori Lehtera during the second period of their World Cup of Hockey game at the Air Canada Centre in Toronto, Canada, on Thursday.
Photo: AFP
Evgeni Malkin added a power-play goal in the third, while Bobrovsky stopped all 21 shots he faced for his first shutout of the tournament.
The Canada-Russia rivalry is hockey's most storied and today's semi-final shapes up as another classic with Sidney Crosby and Alexander Ovechkin, the sport's two biggest names, set to lead their respective teams into battle.
"It is Canada versus Russia, it is not two players," said Ovechkin, who set up Russia's first goal. "Two teams with a great history, it is going to be tough, it is going to be hard playing here in Canada, but it is also going to be fun. Tomorrow [today] we are going to think how we beat Canada. The opportunity is huge."
Since the breakup of the Soviet Union, Russia's status as a hockey superpower has faded, causing the rivalry to lose some of its heat, but none of the animosity.
Canada have won gold at three of the last four Winter Games, while the once unstoppable "Big Red Machine" has sputtered along, limited to a single bronze.
Finland, who had knocked Russia out of the Sochi Olympics in the quarter-finals, looked ready to be the Russian bogeyman once again after a scoreless opening period.
However, Russia broke the deadlock early in the second when Tarasenko took a nifty goalmouth feed from Ovechkin and redirected into an open net.
Just 1 minute, 19 seconds later, Telegin added an insurance marker by stickhandling across the goalmouth and sliding the puck past a sprawling Tuukka Rask.
"The first period was kind of asleep, kind of a boring game. We did not want to make a mistake and give them an opportunity to take the lead," Ovechkin said. "They hit the crossbar and then we scored two goals right away. It kind of gave us some breathing room."
In the late game, the US fell to the Czech Republic 4-3 to close out the group stage of the competition.
Both teams were already eliminated heading into the contest and the US suffered yet another defeat as goaltender Ben Bishop was pulled after giving up four goals on 20 shots through two periods.
The US finished the tournament 0-3-0, finishing seventh of the eight teams.
"None of us with the US team here from head to toe is happy with what's happened here," coach John Tortorella said. "We come up short, but I think some guys gave some really true efforts. We just didn't find a way to win the hockey game."
Comments will be moderated. Keep comments relevant to the article. Remarks containing abusive and obscene language, personal attacks of any kind or promotion will be removed and the user banned. Final decision will be at the discretion of the Taipei Times.