Kaepernick receives death threats for anthem protest
San Francisco 49ers quarterback Colin Kaepernick on Tuesday said he has received death threats over his national anthem protest as the killing of an unarmed black man in Oklahoma sparked renewed outrage.
Kaepernick has staged a silent boycott of The Star-Spangled Banner during 49ers games this season, pointedly sitting or kneeling during renditions of the song rather than standing.
The 28-year-old says he is protesting racial inequality and injustice in the US, including the actions of law enforcement officers toward minorities.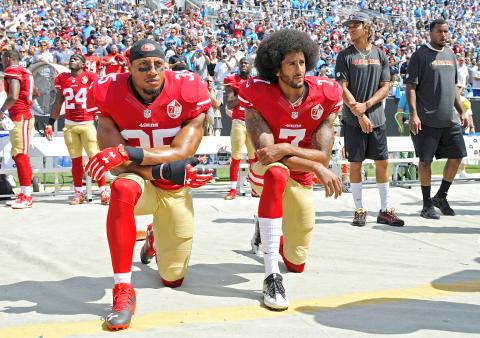 The San Francisco 49ers' Colin Kaepernick, right, and Eric Reid kneel during the US national anthem before their NFL game against the Carolina Panthers in Charlotte, North Carolina, on Sunday.
Photo: AP
Kaepernick on Tuesday told reporters he had received threats from different avenues since starting his protest.
"If something like that were to happen, you've proved my point," said Kaepernick when asked about the possibility of the threats being acted upon.
"It'll be loud and clear why it happened," he said.
The quarterback said he had anticipated the backlash before he embarked on his protest.
"I knew there were other things that came along with this when I first stood up and spoke about it. It's not something I haven't thought about," he said.
The killing on Friday of 40-year-old Terence Crutcher by police in Tulsa, Oklahoma, was emblematic of the issues Kaepernick is protesting against.
"This is a perfect example of what this is about," Kaepernick said. "It will be very telling about what happens to the officer that killed him. They shot and killed a man, and walked around like it wasn't a human being."
Comments will be moderated. Keep comments relevant to the article. Remarks containing abusive and obscene language, personal attacks of any kind or promotion will be removed and the user banned. Final decision will be at the discretion of the Taipei Times.