US ousted from World Cup of Hockey
DAY OF RIVALRIES: In Tuesday's other game, Finland and Sweden also faced off with the 'Tre Kronor' claiming a 2-0 victory over the Finns thanks to some brilliant goaltending
US hopes of escaping the preliminary round of the World Cup of Hockey ended on Tuesday when Canada thrashed their North American rivals 4-2, clinching a semi-final berth for the hosts and Team Europe.
After an upset loss to Europe in their tournament opener, the US (0-2) came into the showdown with Canada (2-0) needing a win to keep alive their hopes of advancing out of Group A, upping the intensity level in an already heated rivalry several notches.
However, after opening the scoring, the US surrendered four goals, including two in 14 seconds, dooming them to another early exit from a major international competition.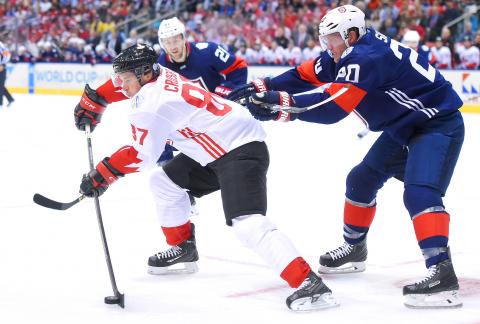 Canada's Sidney Crosby, left, controls a pass as he takes a shove from the US' Ryan Suter, right, in their World Cup of Hockey match at the Air Canada Centre in Toronto, Ontario, on Tuesday.
Photo: Dan Hamilton, USA TODAY
"I thought we had a good start, but gave them a couple of freebies and you just can't do that," said US coach John Tortorella, who will have one more meaningless game in group play against the Czech Republic.
"It's disappointing, frustrating. I think we let some people down. It's on my watch and I certainly feel responsible," he said.
It was a day of rivalries at the World Cup as Finland and Sweden also faced off with the Tre Kronor claiming a 2-0 victory over the Finns behind the brilliant goaltending of Henrik Lundqvist, back in net after missing the opener with the flu.
While Russia hold the status as traditional rivals of both Canada and the US, the bad blood fueled by a Cold War and opposing political ideologies has long ago faded along with much of the animosity.
The new Canada and US rivalry has yet to produce a defining moment in a feud driven by a shared border and familiarity that has bred fierce contempt.
Playing with desperation, the US got on the scoreboard first with Ryan McDonagh banging home a loose puck for a 1-0 lead, but Canada hit back almost immediately with a pair of goals just 14 seconds apart from Matt Duchene and Corey Perry.
Duchene collected his second of the period when he found himself alone in front of the US net, putting a nifty move on Jonathan Quick before slipping the puck between the US netminder's pads.
Patrice Bergeron had the only goal of the second period as Canada improved their lead to 4-1, while T.J. Oshie closed out the scoring with a late goal for the US.
"There were times tonight that I didn't think we were even close to being as good as we are capable of being," said coach Mike Babcock, who steered Canada to gold medals at the Vancouver and Sochi Olympics.
"Now we're set up to play more games in the tournament, which is real positive, but we weren't as good as we were capable of being," he said.
Lundqvist stopped all 36 shots he faced from a desperate Finland team as he emphatically ended any concerns about a possible injury as Sweden seized control of Group B.
The victory likely assured Sweden a spot in the semi-finals of the eight-team tournament and left Finland, who have not beaten their rivals in best-on-best competition since the 1998 Nagano Olympics, in a tough spot to reach the elimination stage.
Anton Stralman collected the only goal Sweden would need midway through the second period, while Loui Eriksson added an insurance marker when he scored into an empty net.
With the win, Sweden (2-0) were leading Group B ahead of their final game of the preliminary round against Team North America (1-1) yesterday.
Finland (0-2) face long odds to reach the elimination round as they would need to beat Russia (1-1) today, have Sweden win and have the tiebreaking procedure go in their favor.
Comments will be moderated. Keep comments relevant to the article. Remarks containing abusive and obscene language, personal attacks of any kind or promotion will be removed and the user banned. Final decision will be at the discretion of the Taipei Times.