Nostalgia rules as Rams make winning LA return
Nostalgia was the dominant feeling for excited Rams fans on Sunday as they watched their team play their first NFL game at the iconic Los Angeles Memorial Coliseum in 37 years.
Win or lose against the visiting Seattle Seahawks, it hardly mattered for the Rams faithful on a gorgeous afternoon of unrelenting sunshine with temperatures peaking at 31?C.
The fact that Los Angeles, relying on superb defense, ground out a stunning 9-3 victory over the Super Bowl champions of two seasons ago in front of a crowd of more than 90,000 came as a welcome bonus in their opening home game of the season.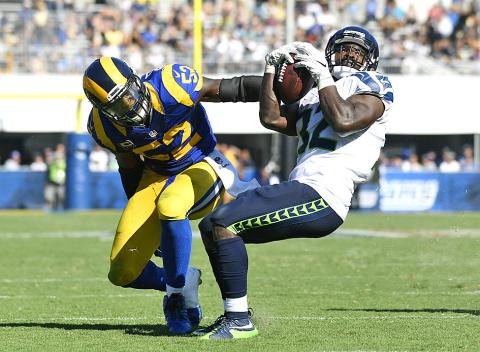 Christine Michael of the Seattle Seahawks, right, is tackled by Alec Ogletree of the Los Angeles Rams in their NFL game in Los Angeles on Sunday.
Photo: Richard Mackson, USA Today
Much more important for the fans was the sight of the Rams players, wearing "throwback" royal blue and yellow uniforms, on their return to the City of Angels.
The Rams had not played a regular-season game at the cavernous Coliseum since 1979, with the franchise moving to nearby Anaheim later that year, before heading further afield after the 1994 season, to St Louis, Missouri, for the next two decades.
Now they are back in Los Angeles where they will play at the fabled Coliseum until construction of the nearby Inglewood Stadium is completed and the venue is opened for the 2019 season.
Rick Gonzalez, an engineer for California-based health insurer Kaiser Permanente, became a Rams fan in 1977 as a high-school student and stayed loyal to the team throughout their lengthy absence from Los Angeles.
"I was kind of upset when they went to St Louis, but I have always supported them all the way," Gonzalez said after watching the Rams rebound from a humbling 28-0 shutout by the San Francisco 49ers in their season opener. "I'm so glad they are now back here in LA. This feels so good, so good. For us Rams fans, it's very exciting."
Asked whether he was at all concerned that the Rams would struggle in Los Angeles after posting nine straight losing seasons in St Louis, Gonzalez replied: "I don't care. I just love it all, win or lose."
Based on Sunday's performance against the Seahawks, the Rams might well spring a few surprises for their fans on the field.
Despite a misfiring offense, the Rams beat Seattle for a third straight time thanks to three Greg Zuerlein field goals and brilliant defense, especially in the final quarter when their opponents pressed hard.
Seahawks running back Christine Michael fumbled after taking a pass from quarterback Russell Wilson and Rams linebacker Alec Ogletree recovered with just under a minute left to seal the victory amid thunderous roars from the crowd.
Comments will be moderated. Keep comments relevant to the article. Remarks containing abusive and obscene language, personal attacks of any kind or promotion will be removed and the user banned. Final decision will be at the discretion of the Taipei Times.