Two-man refugee team appreciate Paralympics
Of the nearly 4,000 athletes competing at the Paralympics in Rio de Janeiro, all but two are doing so for their country.
Syrian swimmer Ibrahim al-Hussein and Iranian-born discus thrower Shahrad Nasajpour make up the first refugee team at the Paralympics.
"All the years I dedicated to sports did not go in vain," said al-Hussein, who lost part of his right leg in a bombing in his Syrian hometown.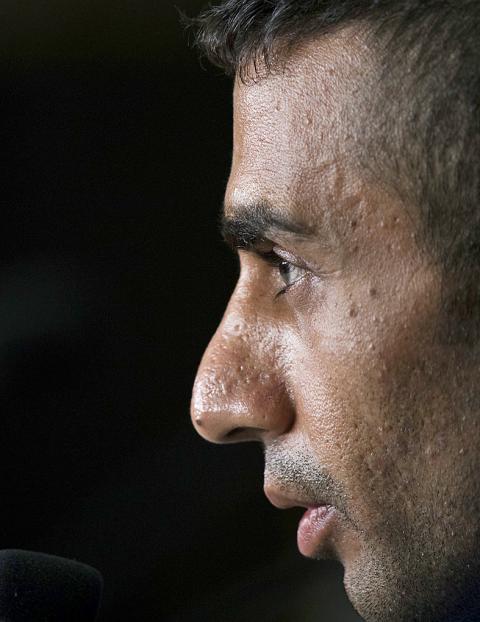 Syrian refugee and Paralympic swimmer Ibrahim al-Hussein speaks at a news conference at the Games in Rio de Janeiro on Wednesday.
Photo: AP
"I think we were trying to show that the values that the [Paralympics] holds is to provide opportunities regardless of the circumstances of individuals with impairments," said chef de mission Tony Sainsbury, regarding the creation of the refugee team. "Those opportunities exist for them provided that they can demonstrate that they are of the right standard of potential."
Sainsbury said athletes must meet three criteria to be considered.
They need to be officially recognized as a refugee, who had sought and were granted asylum. They needed to return from Brazil to the nations where they sought asylum, and they had to prove a "credible performance," he said.
Mohamad Alabed, who lived in the same area as al-Hussein, fled Syria and now resides in the Netherlands.
He said that while he does not know al-Hussein personally, "everyone knows of the heroic Syrian swimmer."
While neither refugee competitor medaled, al-Hussein hopes to leave behind a different type of legacy at the Paralympic Games.
He said he feels "having represented the refugees of the world and having the word 'refugee' circulated throughout the world is the most important thing I could have done."
"I am a refugee, that was out of my hands," he said. "I was injured, that was out of my hands. I am an athlete, this is my choice."
Comments will be moderated. Keep comments relevant to the article. Remarks containing abusive and obscene language, personal attacks of any kind or promotion will be removed and the user banned. Final decision will be at the discretion of the Taipei Times.