Rookie Siemian leads Denver to win in opener
Trevor Siemian has been given the tough task of replacing five-time league Most Valuable Player (MVP) Peyton Manning at the helm of the Denver offense, but the unheralded quarterback on Thursday looked up for the job in a Super Bowl rematch against Carolina to open the NFL season.
Siemian, whose only previous NFL experience was taking a knee in a game in December last year, was far from perfect, but showed plenty of confidence in his first start, helping reigning champions Denver to a 21-20 win over the Panthers.
"Pretty incredible," Siemian said of earning his first NFL win. "It was a lot of fun. I had a blast with those guys."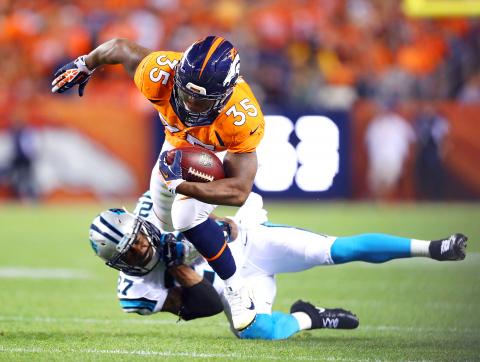 The Carolina Panthers' Robert McClain, back, tackles the Denver Broncos' Kapri Bibbs in the second half of their NFL game in Denver, Colorado, on Thursday.
Photo: Mark J. Rebilas, USA TODAY
With Manning in attendance to recognize last season's Super Bowl triumph during a pregame ceremony, Siemian shook off a rough start and boos from fans in time to help the Broncos earn the victory on the biggest stage he has ever played on.
The second-year quarterback, a seventh-round draft pick last year taken by Denver 250th overall after an underwhelming college career, overcame two interceptions and completed 18 of 26 passes for 178 yards and one touchdown.
Siemian's first pick came off a tipped ball while the second came when he underthrew a receiver. He recovered nicely on Denver's next possession, completing all six of his passes, scrambling 11 yards for a first down and capping the drive with a 25-yard strike to C.J. Anderson.
After the interceptions, Siemian revealed what went through his mind.
"It's a long game, you got to play for four quarters. Especially our defense, we are going to be in every game we play in with those guys," Siemian said.
"I think only one of the times they turned the turnover into points, so very fortunate in that sense to have the defense we got," he added.
While the 24-year-old lacked the leadership, presence and unmatched ability to read opposing defenses that future Hall of Famer Manning offered, he was poised in the pocket and managed to keep his vision down the field.
It proved enough as the Broncos' dominant defense came up big against the Panthers and reigning league MVP Cam Newton, who was sacked three times.
Siemian moved into the starting role after an off-season that saw Manning, one of the best to play the game, retire. Manning's backup, Brock Osweiler, left via free agency and Mark Sanchez, the player initially acquired to be the starter, got cut.
"He's done well," Manning said during halftime of the televised broadcast.
"He's hung in there tough. Got a tipped ball [for an interception], which I've always thought should be illegal," he added.
Comments will be moderated. Keep comments relevant to the article. Remarks containing abusive and obscene language, personal attacks of any kind or promotion will be removed and the user banned. Final decision will be at the discretion of the Taipei Times.