RIO OLYMPICS: Archer first woman to lead Iran at opening ceremony
When archer Zahra Nemati carried the Iranian flag into the Maracana Stadium on Friday, she broke new ground for the country.
Never before had a woman led Iran's team into the parade of athletes in an Olympic opening ceremony.
In Iran, where strict interpretations of Muslim norms are enforced, female fans are traditionally barred from attending male-only sporting events.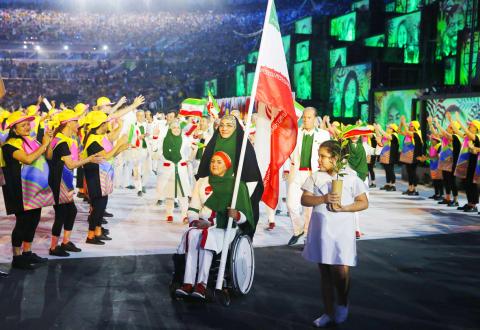 Iran flag bearer Zahra Nemati, center, leads her team into the Maracana Stadium during the Rio de Janeiro Olympic Games opening ceremony on Friday.
Photo: EPA
Arriving in the stadium in a wheelchair, wearing a green head covering, Nemati was the flag bearer for a team overwhelmingly made up of men.
It was quite a way for 31-year-old Nemati to make her mark on her first Olympics.
She had hoped to represent Iran at the Olympics much earlier in life — and in taekwondo rather than archery.
A car accident as a teenager set the former black belt on a new sporting path after leaving her paralyzed.
She picked up archery a few years later simply because: "I wanted to do some sport."
Unlike most athletes, Nemati is not just spending part of this month in Rio de Janeiro. She is to pull double duty and return next month for the Paralympics, where she is the defending gold medalist in the individual recurve W1/W2.
Nemati started her ambitious journey to a first Olympic medal ahead of Friday's opening ceremony during archery's qualifying round at the Sambadrome. She shot 72 arrows and accumulated a score of 609 — good for 49th position. The results from the qualifying round are used determine the seedings for the bracketed tournament next week.
"I want to make my goal and get the best result: to make my family and the people around me happy and let them know I'm OK and I'm strong," she said.
There is no questioning her talent in archery. Over the past few years, Nemati has turned in a few top-10 finishes at Archery World Cup events. Just last year she was ninth at a tournament in Poland.
At the 2012 London Paralympics, she captured gold to become the first woman from Iran to do so, according to the Rio Olympics Web site.
Nemati earned her spot at both the Olympics and Paralympics with a strong performance at last year's Asian Championships and Asian Para Championships.
"I had a dream to be in the Olympics, as I was doing taekwondo before my accident," she said. "Now, this dream came true through archery."
Nemati is hoping others in a similar situation will follow her path and has been named a UN ambassador for her role in empowering women through sport.
"For me, it means a lot to make the people who have big problems in their lives happy," Nemati said.
Comments will be moderated. Keep comments relevant to the article. Remarks containing abusive and obscene language, personal attacks of any kind or promotion will be removed and the user banned. Final decision will be at the discretion of the Taipei Times.