Allardyce says Rooney still key to England plans
New England coach Sam Allardyce said Wayne Rooney has a significant part to play in his plans, but refused to give assurances about the player's future as captain.
Rooney recently expressed a desire to continue as skipper, despite criticism following England's disastrous campaign at Euro 2016 in France.
Manchester United coach Jose Mourinho last week promised the 30-year-old that he would keep the armband at club level.
New England coach Sam Allardyce poses during a media event at St George's Park near Burton-on-Trent, England, on Monday.
Photo: AFP
However, Allardyce, speaking at his first news conference since taking over from Roy Hodgson, did not follow suit.
Instead, England's record goalscorer is to have a nervous wait until September when Allardyce is to meet his players for the first time ahead of their 2018 FIFA World Cup qualifier with Slovakia.
"I do not want to put myself out in the open just yet. It is a decision that I will make once I have got my feet under the table," Allardyce said, when asked if Rooney would retain the captaincy.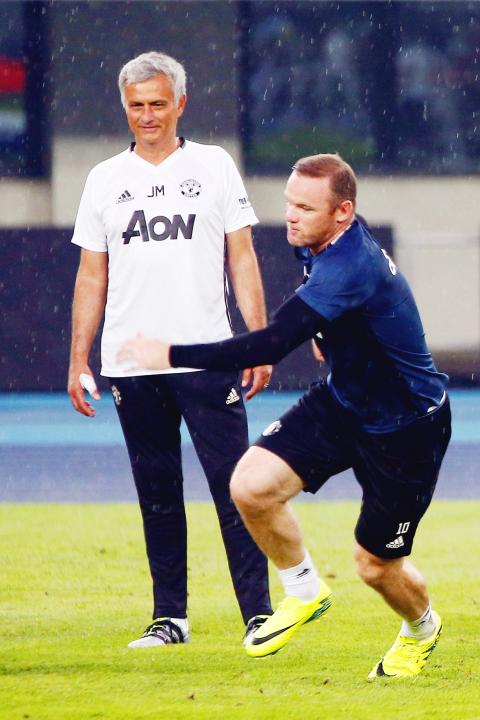 Manchester United's Wayne Rooney, right, takes part in a training session as coach Jose Mourinho looks on at the Olympic Sports Center in Beijing on Sunday.
Photo: Reuters
"I have got to leave that until we reach all the players and get the coaching staff together and plan for the internationals in September. Will I wait until I meet the players? I think so. Put it this way — I still think Wayne Rooney still has a massive place to play in the England side. I do not think there is any doubt about that," Allardyce added.
He refused to be drawn on whether he thinks Rooney is more suited to a midfield or striking role, adding that he plans to follow Mourinho's lead on where to deploy the player.
"What is Rooney's best position? I am not saying. I think Jose will determine that, because if Jose says he is not going to play him in center midfield, and he is playing up front and scoring goals for Manchester United, then it would be pointless me bringing him into England and playing him in center midfield," Allardyce said.
The 61-year-old Allardyce said that it is inevitable that there would be occasions when he clashes with English Premier League coaches now he has crossed over into international management.
"The demands on Premier League managers and demand on me as England manager is bound to cause some conflict down the line, because the pressures are far greater than ever before," he said.
Allardyce, who has signed a two-year contract to coach England, has promised his players that they would work in a "fun" environment while he is in charge.
"My style is very much ... having a good relationship with the players. Not being distant. That is not my style. I like to be in amongst the banter," he said.
Comments will be moderated. Keep comments relevant to the article. Remarks containing abusive and obscene language, personal attacks of any kind or promotion will be removed and the user banned. Final decision will be at the discretion of the Taipei Times.