Japan chase 2020 liftoff in Brazil
Japan will bank on "mental toughness" to win a best-ever medal haul at the Rio de Janeiro Olympics as they look to build a solid platform for the 2020 Tokyo Games, their Rio team leader said.
From Asian swim king Kosuke Hagino to wrestling's iron lady Saori Yoshida, Japan boast strength across the board and the nation's Olympic chiefs have targeted a record number of medals, including at least 14 golds.
"Rio is an important stepping stone for the Tokyo Olympics," Japan chef de mission Seiko Hashimoto said in an interview. "We won 38 medals in London, although only seven were gold. We want to improve on that and surpass 14 gold medals."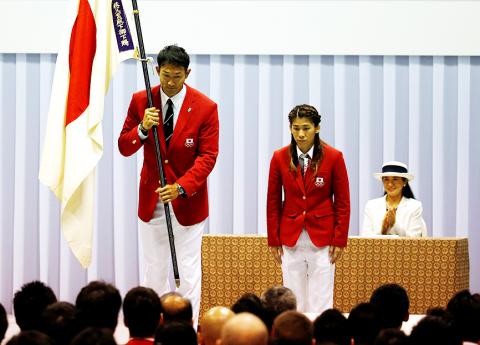 Japanese decathlete and flag bearer Keisuke Ushiro, left, and women's wrestler and team captain Saori Yoshida, center, bow as Japanese Crown Princess Masako looks on at a ceremony ahead of the Japanese team's departure to the Rio de Janeiro Olympics in Tokyo on July 3.
Photo: Reuters
Hot-shot Hagino, who will be stepping out of the shadow of Kosuke Kitajima after the former Olympic champion failed to qualify for Rio, could well usher the US' Michael Phelps into a new retirement.
Wrestling queen Yoshida, winner of the 55kg title at the past three Olympics and a 13-time world champion, has been named as Japan's first female national team captain at a Summer Olympics.
"We have no shortage of leaders at these Games," said Hashimoto, a former speed skater and track cyclist turned politician.
"If you analyze the world rankings, it looks a tough ask, but Japanese athletes have an indefatigable spirit. What they lack in size they make up for with extraordinary mental toughness."
Hagino's bid to win the 200m and 400m individual medley races could set the tone, in much the same way Kitajima's 2004 breaststroke double propelled Japan to 16 gold medals — equaling their best-ever haul, set previously at the 1964 Tokyo Games.
"We expect good things from the likes of Hagino and [backstroker Ryosuke] Irie," Hashimoto said. "They thrive on pressure. Good results from them would give the whole Japan team a boost."
Hashimoto also tipped the country's gymnasts to deliver, with "twist prince" Kenzo Shirai expected to make a splash on his Olympic debut as Japan look to win the men's team title they once dominated.
A ban on Russian athletes competing in Rio following allegations of state-sponsored doping could of course also result in a trickle-down of medals.
"If a sporting superpower like Russia does not take part, it is a pity, but I believe the punishment was unavoidable," Hashimoto said.
Japan's first female chef de mission at a summer Olympics, Hashimoto expects to have her hands full alleviating any health or security fears athletes might have in Rio after controversy plagued the buildup to the Games.
"Helping athletes cope with the stress is a big part of the job," Hashimoto said, adding that Japanese athletes would be thoroughly briefed on the Zika virus and staying away from the city's crime-infested favela areas.
A state-of-the-art support facility where pampered Japanese athletes can train around the clock and receive medical and nutritional assistance has also been set up, along with a catering unit laid on by a national food sponsor offering them home cooking.
"It is a great opportunity for Japan to show how important it is for the country's future to host the 2020 Olympics," Hashimoto said. "We want to be third in the medals table in 2020 and that process starts in Rio."
Comments will be moderated. Keep comments relevant to the article. Remarks containing abusive and obscene language, personal attacks of any kind or promotion will be removed and the user banned. Final decision will be at the discretion of the Taipei Times.