I felt that it was my turn, Stenson says
SHOWDOWN: Henrik Stenson and Phil Mickelson were neck-and-neck on the back nine, before the Swede made the difference with a stunning run of three birdies from the 14th
Henrik Stenson said he had a feeling he would finally win his first major after seeing off Phil Mickelson in a thrilling climax at The Open Championship on Sunday.
"It's not something you want to run around and shout, but I felt like this was going to be my turn," said the Swede, whose Open record score of 20-under at Royal Troon gave him a three-stroke winning margin over Mickelson. "I knew I was going to have to battle back if it wasn't, but I think that was the extra self-belief that made me go all the way this week."
New world No. 5 Stenson had started the day on 12-under, a shot clear of Mickelson, but dropped a stroke at the first to lose his lead.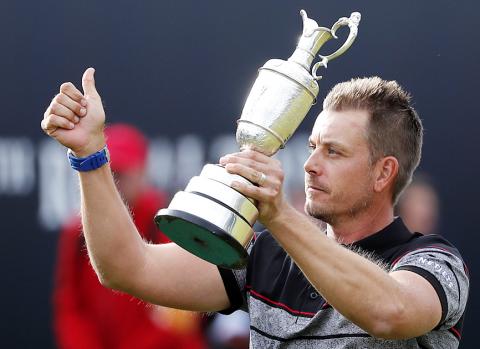 Sweden's Henrik Stenson holds the Claret Jug after winning The Open Championship at Royal Troon Golf Club in Scotland on Sunday.
Photo: AP
However, the Swede promptly fought back with a remarkable 10 birdies en route to a major championship record-equaling round of 63 to seal the deal in style.
Mickelson had scored a 63 himself in the opening round on Thursday last week.
"I'm very proud of the way I played. It was a great match with Phil. It seemed like it was going to be a two-horse race and it was all the way to the end," Stenson said. "I knew he wasn't going to back down at any point and in a way that makes it easier for myself."
The two were neck-and-neck on the back nine after Stenson missed a par putt at the dangerous 11th hole, but he made the difference with a stunning run of three straight birdies from the 14th.
Meanwhile, Mickelson just failed to convert an eagle putt at 16, effectively killing his chances.
"Phil missed his eagle putt, so it looked like it was going to go in, and I expect him to make every putt, you have to," Stenson said.
With the rest of the field nowhere to be seen, it was an epic two-way shootout that evoked memories of the "Duel in the Sun" between Tom Watson and Jack Nicklaus at Turnberry in 1977. Just like Watson then, Stenson came out on top on Scotland's west coast, but both players produced world-class golf.
"We managed to pull away from the rest of the field and we both played some great golf," added the winner, who had the Claret Jug alongside him as he spoke to the media. "It makes it even more special to beat a competitor like Phil. He's been one of the best to play the game, and certainly in the last 20 years. So to come out on top after such a fight with him over these four days, it makes it even more special."
Comments will be moderated. Keep comments relevant to the article. Remarks containing abusive and obscene language, personal attacks of any kind or promotion will be removed and the user banned. Final decision will be at the discretion of the Taipei Times.