France count on lucky No. 7 to stop Ronaldo
The fate of today's intriguing Euro 2016 final between France and Portugal weighs largely on two men wearing the No. 7 shirt, one already at the top of the game and the other one getting there fast.
Cristiano Ronaldo, accustomed to fighting with Lionel Messi for the right to be called the best soccer player in the world, takes on a different challenger in France's Antoine Griezmann, this time for European supremacy.
The pair know each other well, having faced each other six weeks ago in the Champions League final in which Griezmann missed a penalty for Atletico Madrid in regular time before Ronaldo sealed city rivals Real's victory by converting the decisive spot-kick in the shootout.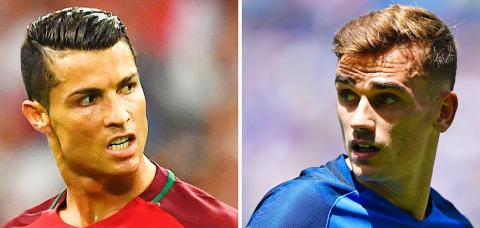 Portugal's forward Cristiano Ronaldo, left, is pictured in Marseille, France, on June 30, and France's forward Antoine Griezmann is pictured in Decines-Charpieu, near Lyon, France, on June 26.
Photo: AFP
Since the start of Euro 2016, Griezmann has bounced back from that disappointment, scoring six goals, a feat no player had achieved at one tournament since France great Michel Platini hit a record nine at the 1984 finals.
Ronaldo, by contrast, had to soak up a lot of criticism after lackluster showings by his high standards before playing a decisive role by scoring a goal and setting up another in a 2-0 semi-final win over Wales.
Griezmann was even more impressive in France's semi-final win over world champions Germany, scoring both goals in a 2-0 victory to give the host nation their first win over the Germans in a competitive match in 58 years.
The two now hold the keys to today's final, in which France will chase a third European title after 1984 and 2000 and a third triumph on home soil after Euro 1984 and the 1998 World Cup.
Portugal have featured in the final of a major event only once before, when they lost 1-0 to Greece in the title match of the 2004 European Championship on home soil, with a 19-year-old Ronaldo in their team.
"Twelve years on and I am in another final," the Real Madrid forward said. "This makes me proud, I always dreamed about winning something for Portugal and I hope it will be this time."
Portugal, who have won only one match over 90 minutes in the tournament, have yet to sparkle, although there was some improvement in their semi-final, notably from Ronaldo, who scored a majestic headed goal.
"I am certain that the whole group will think of it as the game of their lives because Portugal have never won a title," midfielder Joao Mario said.
Their down-to-earth coach, Fernando Santos, said the tournament was not a style contest and only victory mattered.
"I judge my team by whether we play well or badly, not by whether we are pretty or ugly," he said at one point during Euro 2016.
France will start as slight favorites, having won their last 10 meetings with Portugal dating back to 1975, and having scored seven goals in their last two games in the competition.
Les Bleus can also rely on passionate support from home fans desperate for something to celebrate after going through strikes and violent protests against a labor law, as well as a state of emergency still in force since November last year, when militants killed 130 people in Paris at several sites including the Stade de France, the venue for today's final.
"It was our duty to win matches to give the French joy and reach the end," Griezmann said. "I hope we will make it a beautiful end."
Comments will be moderated. Keep comments relevant to the article. Remarks containing abusive and obscene language, personal attacks of any kind or promotion will be removed and the user banned. Final decision will be at the discretion of the Taipei Times.