IAAF says whistle-blower can compete at Olympics
The International Association of Athletics Federations (IAAF) yesterday approved Russian whistle-blower Yulia Stepanova's bid to compete as a neutral athlete in the upcoming European Championships and the Olympics in Rio de Janeiro.
The IAAF said that it had accepted her application as the first athlete to compete under "exceptional eligibility."
Stepanova was one of the world's top 800m runners before she and her husband, Vitaly Stepanov, a drug-testing official, provided evidence to the World Anti-Doping Agency that doping was systematic in Russian track and field, with officials helping to cover it up.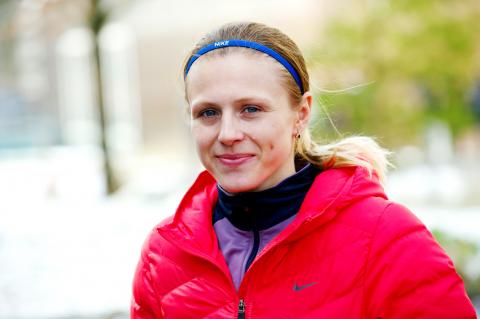 Russian athlete Yulia Stepanova poses for a photograph in Berlin on Feb. 1 last year.
Photo: EPA
The IAAF statement said its doping review board "decided its first case of an athlete seeking exceptional eligibility to compete in international competition as a neutral athlete" and lauded Stepanova "as someone having made a truly exceptional contribution to the protection and promotion of clean athletes, fair play and the integrity and authenticity of the sport."
It added that Stepanova's participation as a neutral athlete "is still subject to acceptance by the organizer of the competition in question, in accordance with the rules of that competition."
European Athletics, which is organizing the continental championships in Amsterdam next week, has already said it would go along with any decision on Stepanova's eligibility.
"European Athletics is ready to accept her late entry and we are awaiting further instruction from the IAAF Doping Review Board that has been put in place to discuss the eligibility of athletes' requests," European Athletics said in an earlier statement.
The IAAF will allow individuals to compete as "neutral athletes" if they can show they have been regularly tested by a reliable agency. The measure is aimed largely at Russians who have been based abroad and few athletes are likely to be eligible, though US-based long jumper Daria Klishina, a two-time European indoor champion, is likely to be one.
The deadline to apply is July 4 and a decision on all claims will be made by July 18. The Olympic track and field competitions start on Aug. 12.
The IAAF has said that more than 80 Russian athletes had applied.
Comments will be moderated. Keep comments relevant to the article. Remarks containing abusive and obscene language, personal attacks of any kind or promotion will be removed and the user banned. Final decision will be at the discretion of the Taipei Times.