RIO OLYMPICS 2016: Ledecky dominates 400m freestyle
Freestyle phenomenon Katie Ledecky is on her way to the Rio Olympics after blazing to victory in the 400m freestyle at the US swimming trials in 3 minutes, 58.98 seconds.
Seizing the race by the throat, Ledecky was more than two seconds under the pace of the world record of 3 minutes, 58.37 seconds she set at the Pan Pacific Championships in Australia in 2014.
She remained under world record pace through 350m before settling for the third-fastest time in history.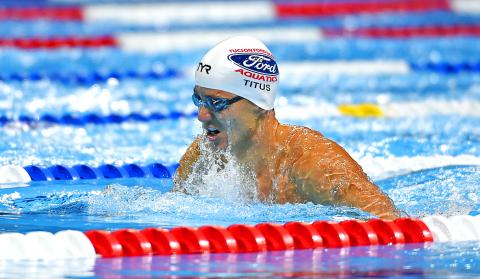 Marcus Titus competes in the men's 100m breaststroke semi-final at the US Olympic swimming trials in Omaha, Nebraska, on Sunday.
Photo: AP
"I could tell I was tightening up a little bit, but just knowing I had to get my hand to the wall pushed me through that," Ledecky said, adding that she had trouble sleeping in anticipation of her first race of the trials, despite her dominance of the past two years.
"It was a little hot going out," Ledecky's coach Bruce Gemmell said. "Sometimes we forget she is a 19-year-old girl. She gets excited."
It was the first step toward what could be an historic Rio campaign. Ledecky, who exploded on the international scene with an 800m free triumph in London four years ago, is entered in the trials in every freestyle event from 50m through 800m.
Leah Smith, a relay gold medalist at last year's world championships, clung to Ledecky's heels all the way, slicing nearly three seconds off her personal best to finish second in 4 minutes, 00.65 seconds.
That makes her the fourth-fastest performer ever and promises a formidable US one-two punch in Rio — a fact that was not lost on Ledecky as she celebrated with her rival.
Kelsi Worrell earned her ticket to Brazil with a 100m butterfly victory in a sizzling 56.48 seconds.
That made her second-fastest in the world this year behind Sweden's Sarah Sjostrom.
Worrell, who won gold at the Pan American Games last year in her first international meeting, powered past 2012 Olympic gold medalist Dana Vollmer on the second lap, but Vollmer locked up second place and a chance to repeat in Rio in 57.21 seconds.
The 28-year-old Vollmer, who took time off after London to give birth to her son, Arlen, now 15 months old, exchanged a long hug with her 21-year-old rival across the lane ropes at the finish.
"I have looked up to her so much," Worrell said of Vollmer. "She has a lot of wisdom and I am hoping that she can pass some of that along to me this summer."
Kevin Cordes won the men's 100m breaststroke. Although his time of 59.18 seconds did not match his semi-final showing of 58.94 seconds, it was enough to hold off a charging Cody Miller by eight one-hundredths of a second.
"I knew it was going to be a race," said Cordes, who had not broken a minute in the event before Sunday and lived through trials heartbreak four years ago when a third-place finish left him out of the running for London.
"Definitely carried that for four years," he said. "I am happy this time it is a little bit different."
The ailing Ryan Lochte, vying to make a fourth Olympic team, made it safely into the 200m freestyle final with the fifth-fastest time in the semis.
Lochte, nursing a groin injury, clocked 1 minute, 47.58 seconds to finish third in his heat, won by Conor Dwyer in 1 minute, 46.96 seconds, the evening's fastest time.
There were fireworks in the men's 100m backstroke semi-finals, with David Plummer topping the qualifiers in 52.12 seconds ahead of Ryan Murphy's 52.28 seconds — the fastest times in the world this year.
Reigning Olympic champion Matt Grevers was the third-quickest qualifier for the final in 52.64 seconds, which makes him fourth-fastest this year.
There was trouble for 2012 golden girl Missy Franklin in the women's 100m backstroke semis. Franklin, whose four golds in London included the 100m breaststroke, edged into the final with the seventh-fastest time of the semis, 1.29 seconds behind top qualifier Olivia Smoliga's 59.16 seconds.
Lilly King, 19, led the way into the women's 100m breaststroke final with an impressive semi-final swim of 1 minute, 5.94 seconds.
Comments will be moderated. Keep comments relevant to the article. Remarks containing abusive and obscene language, personal attacks of any kind or promotion will be removed and the user banned. Final decision will be at the discretion of the Taipei Times.