Wilmots relishes chance to hit back at his critics
Belgium's convincing 3-0 win over the Republic of Ireland at Euro 2016 on Saturday is unlikely to ease the difficult relationship between coach Marc Wilmots and his critics.
After starting with a 2-0 defeat to Italy, the world No. 2 side bounced back in Bordeaux as a second-half Romelu Lukaku brace, either side of an Axel Witsel goal, gave them their first points in Group E.
Wilmots was in the firing line after the Italy loss, targeted by some Belgian media, who accused him of not getting the best out of arguably the best squad at the tournament, but he relished getting one over on his critics in Bordeaux, saying that certain people were trying to manipulate the fans with their views on him.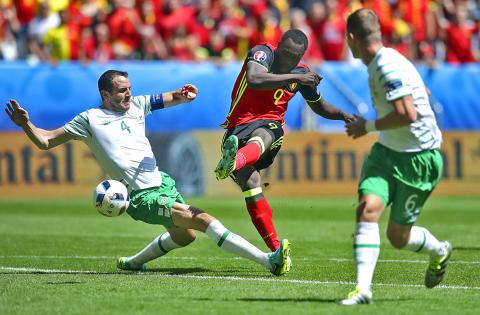 Belgium's Romelu Lukaku, center, scores against the Republic of Ireland in their Euro 2016 Group E match at the Nouveau Stade de Bordeaux in France on Saturday.
Photo: AP
"We have just had four successful years and then with the first defeat [against Italy] that is all forgotten. It is manipulation," the 47-year-old told reporters after Saturday's game. "Public opinion is manipulated by certain people. We have superb supporters, but some people want to lead them down a bad path."
Wilmots has long been a leading figure in Belgian soccer, having starred as a player in the 1990s for Royal Standard de Liege, Schalke 04 in Germany and the Belgium national team.
He has been the Red Devils' coach since 2012 and took a promising young team to the quarter-finals of the FIFA World Cup in Brazil two years ago.
Coming into Euro 2016, Belgium lay second in the FIFA world rankings behind Argentina, but for all his good work his problem in a nation divided along linguistic lines is that he is a French-speaking Walloon.
The tendency in Belgium has often been for Walloon coaches to be targeted by the Flemish media and vice versa. In the case of Wilmots, leading Flemish daily Het Laatste Nieuws has led the criticism.
"A few members of the Flemish press think that tactically he is not strong enough to be the coach of the Belgian team with such stars and so if there is an opportunity to attack him, they do so," said Yves Taildeman of La Derniere Heure, a French-language newspaper.
Wilmots was perceived to have been outdone by opposite number Antonio Conte as an Italy team lacking in star players got the better of a Belgium side containing the likes of Lukaku, Eden Hazard and Kevin de Bruyne.
The tension was palpable in the build-up to the game against the Republic of Ireland, in which Belgium could ill afford another slipup.
"All the newspapers in Belgium said: 'Conte beat Wilmots tactically' and he was very hurt by that," Taildeman added. "During the whole week he remained very calm, but I know he is very angry with some people and this was sort of revenge for him."
Only to some extent, though, as Ireland proved themselves to be limited opposition and the victory came after a build-up dominated by suggestions leading Belgium players had agitated for a change in approach.
Wilmots, who stuck with Lukaku and De Bruyne, having been expected to axe both underperforming stars against Ireland, denied that the players have any say in how he lays his team out.
Meanwhile, the coach also insisted that he is thick-skinned enough to not let the criticism get to him, although he could not resist having a dig.
"I can live with the criticism. Apart from death, nothing can upset me. I take great pleasure from doing this job. People who are negative don't interest me. I do things. Not everyone can say that," Wilmots said, adding that too much had been made of the Italy loss. "A lot of nonsense has been spouted in relation to one match that could have ended in a draw against a team who only defend, while we play football."
Now a draw for Belgium in their final group outing against Sweden in Nice on Wednesday will secure progress to the round-of-16, but Belgians, and especially Wilmots' detractors, expect much more than that from such a talented group of players.
Comments will be moderated. Keep comments relevant to the article. Remarks containing abusive and obscene language, personal attacks of any kind or promotion will be removed and the user banned. Final decision will be at the discretion of the Taipei Times.