Lincecum wins in return to MLB
Tim Lincecum made a winning return to MLB, restarting his career after nearly a year away with six sharp innings and several ovations as the Los Angeles Angels beat the Oakland Athletics 7-1 on Saturday.
Lincecum, who gave up one run and four hits, had not pitched in MLB since June 27 last year.
The two-time National League Cy Young Award winner had hip surgery in September last year, left the San Francisco Giants to sign with the Angels in May and made three starts in baseball's minor league.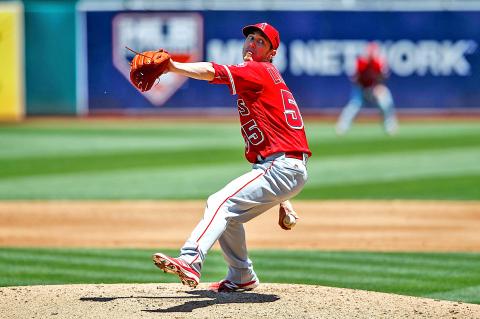 The Los Angeles Angels' Tim Lincecum pitches against the Oakland Athletics in their MLB game at the Oakland Coliseum in California on Saturday.
Photo: AFP
Lincecum retired seven straight during one stretch and got A's slugger Khris Davis to ground into a double play after walking the leadoff batter in the fifth.
"It just kind of felt like riding a bike again," Lincecum said. "After that first inning, everything kind of went away and I could just get back to work and making my pitches."
Mike Trout homered, doubled and drove in three runs to help Los Angeles to their third win in four games. Ryan Dull (1-2) lost in relief.
Elsewhere, Arizona ace Zack Greinke won his seventh straight start by pitching three-hit ball for eight innings as the Diamondbacks beat Philadelphia 4-1.
Paul Goldschmidt, Jake Lamb and Nick Ahmed homered for the Diamondbacks.
Greinke (10-3) allowed one run, struck out six and walked one.
The Phillies have lost five in a row and 22 of 28.
San Francisco's Joe Panik had four RBIs, including a tiebreaking three-run homer in the ninth inning, to help the Giants beat Tampa Bay 6-4 for their seventh straight win.
Hunter Strickland (3-0) won in relief for the National League West division leaders.
In San Diego, Wil Myers had three hits and drove in three runs, keying a six-run rally in the eighth inning that carried the Padres to a 7-3 victory over Washington.
Kevin Quackenbush (4-3) allowed an RBI single in one-third of an inning for the win.
Anthony Rizzo, Kris Bryant and David Ross homered to power the MLB-leading Chicago Cubs to a 4-3 win over Pittsburgh.
The Cubs (46-20) improved to a season-high 26 games above .500, while the Pirates lost for the ninth time in 10 games.
Jon Lester (9-3) won his fifth straight start.
In New York, Ender Inciarte used his speed to help Atlanta beat the Mets 4-3 for their fourth straight win, matching their longest streak this year.
Jeff Francoeur and Tyler Flowers homered for the Braves, who overcame a 3-0 deficit. Dario Alvarez (1-0) got two outs for his second MLB win.
Justin Turner hit a three-run drive for his third homer in two nights, helping the Los Angeles Dodgers rally for a 10-6 win over Milwaukee.
Joc Pederson and Howie Kendrick also homered for the Dodgers. Chris Hatcher (4-3) earned the victory with 2-1/3 shutout innings.
Kansas City's Kendrys Morales drove in five runs with four hits as the Royals cruised to a 16-5 victory over Detroit.
The Royals' 21 hits and 16 runs were season highs. Kansas City's Edinson Volquez (7-6) allowed five runs and eight hits in 6-1/3 innings.
Jacoby Ellsbury hit a tiebreaking two-run single in the ninth inning as the New York Yankees, boosted by Alex Rodriguez's 695th career homer, rallied past Minnesota 7-6.
The Yankees scored three times in the ninth. Aroldis Chapman then gave up back-to-back homers to Eduardo Escobar and Kurt Suzuki with two outs in the bottom half before getting his 13th save in 14 chances.
In St Louis, Ian Desmond hit a tiebreaking sacrifice fly in the ninth inning, sending Texas to their fifth consecutive win, a 4-3 decision over the Cardinals.
Texas won their club-record ninth consecutive series after they beat the Cardinals 1-0 on Friday to begin the three-game set.
Boston's Xander Bogaerts and Jackie Bradley Jr homered to lead the Red Sox to a 6-2 win over Seattle, and in Baltimore, Jonathan Schoop homered, doubled and singled as the Orioles ended Toronto's four-game winning streak in a 4-2 decision.
Cleveland were 13-2 winners over the Chicago White Sox, Miami topped Colorado 9-6 and Houston edged Cincinnati 5-4 in 11 innings.
Comments will be moderated. Keep comments relevant to the article. Remarks containing abusive and obscene language, personal attacks of any kind or promotion will be removed and the user banned. Final decision will be at the discretion of the Taipei Times.