Westbrook, Harden pass on competing for US at Olympics
Russell Westbrook and James Harden chose staying home over going for gold.
And as the losses pile up, the US Olympic basketball team has to hope it still has enough to win when it gets to Rio.
Days after Stephen Curry announced he would not play, Westbrook and Harden pulled out on Friday, further weakening a backcourt that was expected to be a US strength.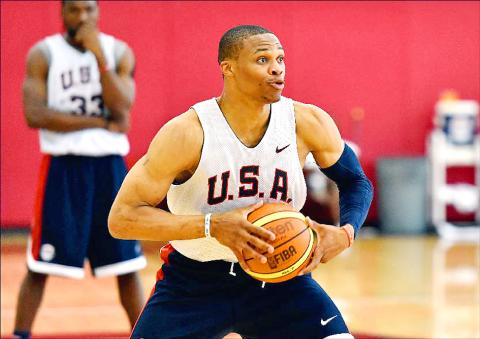 Russell Westbrook looks to pass the ball during the US men's basketball team's minicamp in Las Vegas on Aug. 11 last year.
Photo: AP
Westbrook and Harden played for the US when they won gold in the 2012 Olympics, and both had also won a world championship.
"I have been extremely blessed to wear the 'red, white and blue' and to compete at the highest international level with the greatest players representing the greatest country in the world," Harden said in a statement released by the Houston Rockets. "I sincerely hope I'll earn an opportunity to represent Team USA again in the future."
Neither player gave a reason for his decision.
USA Basketball chairman Jerry Colangelo said this week that every player who had pulled out so far, which includes forwards Anthony Davis, Blake Griffin and LaMarcus Aldridge, had done so because of injury.
However, the Zika virus is also a concern in Brazil, which has been hit hard by the virus that has been linked to severe birth defects and possible neurological problems in adults.
Spain star Pau Gasol recently said he was considering skipping the Olympics for that reason.
Andrew Wiggins also said on Friday he would not play for Canada, who need to win a qualifying tournament next month to earn an Olympic berth. Instead, he wants to remain in Minnesota to prepare for the Timberwolves' first season under Tom Thibodeau.
Thibodeau will be in Rio as an assistant to US coach Mike Krzyzewski, but it is getting harder to figure out what players will be there.
Colangelo knew there would be absences, which is why he assembled a pool of 31 players. He plans to pick the 12 bound for Brazil on June 27.
"When we select our players, it's going to be after a lot of water under the bridge," he said earlier this spring. "There may be a few more players who for whatever reasons decide to drop out. There may be an injury, there may be a surgery scheduled, there are a lot of factors that we've talked about, the variables, so they won't be part of that final 12. But we have until June, the end of June, to have done all of our due diligence. We'll know way before then who wants to play and who's committed, or who is on the fence."
That includes LeBron James, who is not expected to decide on a fourth Olympics until after the NBA Finals.
Curry made up his mind on Monday, saying he wanted to rest recent knee and ankle injuries.
He and Harden were the NBA's top two scorers this season. Curry and Westbrook were the first-team guards on the All-NBA team.
Comments will be moderated. Keep comments relevant to the article. Remarks containing abusive and obscene language, personal attacks of any kind or promotion will be removed and the user banned. Final decision will be at the discretion of the Taipei Times.