Muhammad Ali was Greatest in ring; here is why
Do not ever drop your hands. Do not hold your chin up, or lean straight back when trying to avoid a punch, or let your opponent pin you into a corner.
They are among the basic tenets of boxing, lessons that a trainer teaches fighters early on.
Muhammad Ali defied all of those conventions. Brash as he was with his mouth, the way he fought was arguably even bolder: hands down, head up, dancing, daring his opponent to draw in closely.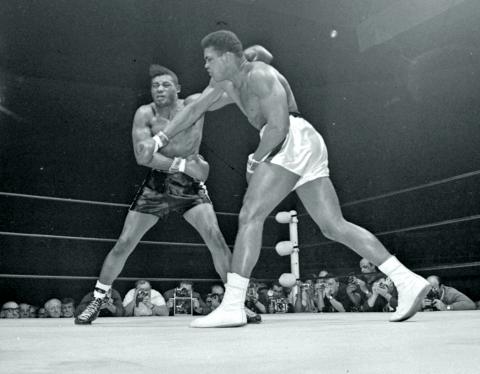 Muhammad Ali lands a right to the jaw of challenger Floyd Patterson in the seventh round of their heavyweight title fight at Las Vegas, Nevada, on Nov. 22, 1965.
Photo: AP
As people around the world remember Ali, who died on Friday, for the social and cultural titan that he was, it is worth reflecting on the unprecedented skills in the ring that earned him the platform to become one of the most popular, influential figures on the planet.
Ali broke onto the boxing scene more than half a century ago as a chiseled, but somewhat lanky light-heavyweight Olympic champion.
As a professional, he quickly established a lightning-quick, tap-dancing style that upended the limits of what heavyweights could do. This was Shaquille O'Neal dribbling like Stephen Curry.
"He introduced an agility, a mobility and speed that hadn't really been seen in that particular framework in the heavyweight division," said Naazim Richardson, who has trained several world champions. "God actually trained him. Everybody else just helped out."
Ali finished his career winning 56 fights and losing just five. Many fighters have tried to incorporate elements of Ali's style into their arsenals, but he was so unorthodox that no one has been able to do it the way he did.
Here is a closer look at the particulars of what made Ali a great fighter.
HIS FEET
Back and forth, back and forth, Ali would scissor his legs. It seemed an innocuous move, but the Ali shuffle, as it came to be known, is part of what made him effective.
"As you watch him dance, you get hit with a four or five-punch combination," former middleweight and light heavyweight world champion Bernard Hopkins said of Ali's opponents. "Now you try to figure out: How did a guy use a tactic that has nothing to do with boxing, called the Ali shuffle, and make it effective?"
That is most likely what Cleveland Williams was thinking as Ali destroyed him in three rounds in a 1966 fight that many experts say was Ali's best ever. At one point in the first round, Ali quickly shuffled his feet back and forth twice in the middle of the ring. Williams appeared to freeze as Ali peppered him with a series of lefts and rights.
Those quick feet also served as Ali's best defensive weapon. If a fighter came within sniffing range, Ali was quick to launch himself out of reach. Fighters are typically taught to move back and to the side when avoiding an opponent's punches, but never to go straight back. Ali did not necessarily have to follow that rule.
That was the case earlier in the first round of the Williams fight when Williams seemed to have Ali cornered. However, Ali threw a left jab to Williams' stomach, then quickly swooped that arm up to hook at Williams' head, while at the same time leaning back. As Williams tried to respond with an overhand right, Ali already had tiptoed out of reach, and he delivered another left hook to Williams' head for good measure.
HIS HANDS
Ali was not the hardest puncher, but he had a long reach and was quick and persistent with his hands, wearing down opponents before trying to finish them off.
"The jab probably got him to the world title," Hall of Fame boxing trainer Freddie Roach said. "Once you obtain the distance where you can land your best combinations and your power shots, the jab sets that up."
In the second round of his first fight against George Chuvalo in Toronto in 1966, Ali casually poked him in the head with a left jab, but then, seemingly out of nowhere, Ali fired his left hand, and with Chuvalo expecting another straight punch, Ali looped his punch to smack Chuvalo with a hook.
Ali focused most of his punches to the head, and that allowed him to stay out of his opponents' reach because fighters have to get closer in to throw body punches, said former middleweight and light-heavyweight world champion Roy Jones Jr, who tried to mimic some of Ali's showmanship in the ring.
HIS CHIN
Great boxers have to be able to do more than give a blow — they have to take one, too. And one of the things that many people do not discuss regarding Ali is how well he could absorb punishment. Larry Holmes was the only fighter ever to stop Ali.
One of the most poignant examples of Ali's iron jaw came when Joe Frazier knocked him down with a vicious left hook in the 15th round of their first fight. Ali quickly sprung back up, though he would lose the fight in a decision.
"That punch would have knocked the building down," former lightweight champion Ray Mancini said. "I said: 'How could a guy get up from a shot like that?'"
HIS BODY
Ali was lean, not bulky, and that is what made him so quick with his hands and feet. So fast were his reflexes that other fighters were afraid to step into their punches, lest they find themselves in his range.
That was a common mistake of Ali's opponents, who would lunge at him with halfhearted punches that would only leave them vulnerable, said Holmes, the former heavyweight world champion who defeated Ali in 1980 in what would be Ali's second-to-last fight.
"You can't slow dance if you don't get close to the woman," Holmes said.
Ron Lyle clearly did not have much desire to tango with Ali by the 11th round of their bout in 1975. After a fairly even, but punishing 10 rounds, Lyle began lazily flailing both of his hands out in front of him at the same time, more like a push than a punch.
After about 20 seconds of that, Ali made him pay with a jab followed quickly by a straight right hand that buckled Lyle and was the beginning of the end of the fight.
The referee stopped it moments later, with Lyle hung up in the corner and not punching back.
HIS BRAIN
Ali was smart. He knew where to stand, where to move, how to dictate a fight on his terms.
"He was always so aggressive and so in charge of everything going on in the ring," Jones said.
Just watch the first round of his first fight against Sonny Liston in 1964. Liston was a heavy favorite, a bull of a man who predicted he would beat Ali in two rounds. However, Ali took the fight to Liston in that opening round, dictating the pace, which eventually allowed him to take control of the fight. Liston did not answer the bell for the seventh round.
The most famous example of Ali outwitting an opponent was his rope-a-dope of George Foreman during the Rumble in the Jungle, in what was then Zaire in 1974.
Ali allowed Foreman in to whale on him with heavy punches, which made Foreman so tired that Ali eventually was able to knock him out late in the eighth round.
What Ali did to Foreman, and his reputation for pretending he was more hurt by a punch than he really was as a way to goad his opponents into reckless flurries, was on Earnie Shavers' mind when he fought Ali in 1977.
In the second round, as Ali flicked a lazy left jab, Shavers blasted over the top of it to catch Ali square on the chin with a right hook.
Ali stumbled back and grabbed the ropes.
He then looked Shavers in the eyes and waved him over to keep coming at him. Instead of pouncing on an injured Ali, Shavers slowly bounded forward.
"When you hit him with a good shot, he fakes like he hurt," Shavers said, adding that he "thought he was faking, so I didn't move in."
Ali won the fight by unanimous decision.
Shavers has said he regretted that decision because he thinks he could have knocked out Ali had he kept up the pressure.
However, he also did not want to end up like Foreman, he said.
"I didn't want to punch myself out," he said.
Comments will be moderated. Keep comments relevant to the article. Remarks containing abusive and obscene language, personal attacks of any kind or promotion will be removed and the user banned. Final decision will be at the discretion of the Taipei Times.