Ali family plans funeral, 'last statement' to world
'LOVE, REVERENCE, INCLUSIVITY': Tomorrow, an Islamic prayer service is to be held at an 18,000-seat hall, and on Friday, Ali's casket is to be paraded through the streets
The family of late boxing legend Muhammad Ali and the city of Louisville on Monday prepared for his public funeral later this week, which organizers said "The Greatest" helped plan himself as a "last statement" to the world.
Former US president Bill Clinton, comedian Billy Crystal and Turkish President Recep Tayyip Erdogan are among those due to speak on Friday at the public memorial in a sports arena in the Kentucky hometown of the three-time world heavyweight champion.
The charismatic Ali, a dazzling fighter and outspoken civil rights activist who became one of the 20th century's towering figures, died on Friday last week at age 74 after health problems complicated by a long battle with Parkinson's disease.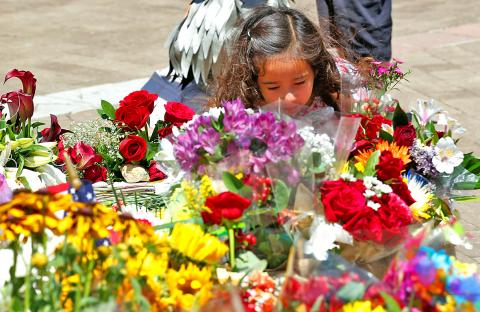 Angelina, six, looks at flowers and mementoes at a memorial for the late former world heavyweight boxing champion Muhammad Ali at at Ali Center in Louisville, Kentucky, on Monday.
Photo: Reuters
The actor Will Smith and former boxing heavyweight world champion Lennox Lewis will serve as pallbearers together with six other people.
The Louisville funeral will be preceded tomorrow by a family funeral and an Islamic prayer service, held in the 18,000-seat Freedom Hall that hosted Ali's last fight in Louisville, against Willi Besmanoff in 1961.
The following day, Ali's coffin — which arrived in the city on Sunday aboard a private plane accompanied by his wife and other relatives — will be paraded through the streets for fans from around the world to say goodbye.
"He was the people's champ and so he wanted that memorial service to reflect that," family spokesman Bob Gunnell said.
Islamic studies professor Timothy Gianotti said that "this was really designed and intended by the Champ himself to be his last statement to the people of planet Earth."
"The love and the reverence and inclusivity that we are going to experience over the coming days is really a reflection of his message," he added.
The official cause of Ali's death was septic shock due to unspecified natural causes.
He had sought medical attention for a cough, but his condition rapidly deteriorated, Gunnell said.
He was admitted to a hospital in the Phoenix suburb of Scottsdale, where he had lived for several years with his wife, Lonnie.
Ali's family removed him from life support on Friday, Gunnell said.
"I'm obviously really sad," Ali's daughter Laila, who followed in his footsteps into the boxing ring, told ABC's Good Morning America.
However, she added: "I have comfort in knowing that he's not suffering anymore."
Ali was a "supernatural figure" who "belongs to the world," Louisville Mayor Greg Fischer said.
"There will be people coming from all over," he told reporters, saying the city was prepared to welcome massive crowds.
Tickets for the public ceremonies were to be distributed free yesterday and today, organizers said, adding that they expect long lines.
Ali's career stretched from 1960 to 1981 before he retired with a record of 56-5, including such historic bouts as the "Rumble in the Jungle" against George Foreman in 1974 in Kinshasa, capital of the Democratic Republic of the Congo (formerly Zaire).
"He hit me with a quick one-two, knocked me down to the canvas and my whole life changed," Foreman told CNN of the epic "Rumble."
Other defining moments of Ali's career included two knockouts of Sonny Liston and his rivalry with Joe Frazier.
Born Cassius Marcellus Clay Jr, Ali dazzled fans with slick moves in the ring and his wit and engaging persona outside it.
He famously said he could "float like a butterfly, sting like a bee."
He took the name of Muhammad Ali after converting to Islam in 1964, soon after he had stunned the sport by claiming the world title with a monumental upset of Liston.
Ali's refusal to serve in the Vietnam War saw him prosecuted for draft evasion and led to his effective ban from boxing for three years during his prime. The US Supreme Court overturned his conviction for draft dodging in 1971.
Ali held firm to his beliefs and eventually earned accolades as a civil rights activist.
He received the highest US civilian honor, the Presidential Medal of Freedom, in 2005 and was chosen to light the Olympic torch in 1996, his hands trembling due to Parkinson's — a poignant moment for the sports world.
He will be buried at Louisville's Cave Hill Cemetery.
Gunnell did not confirm whether US President Barack Obama would attend, and the White House has given no indication of his plans.
Comments will be moderated. Keep comments relevant to the article. Remarks containing abusive and obscene language, personal attacks of any kind or promotion will be removed and the user banned. Final decision will be at the discretion of the Taipei Times.