LeBron James confident Cavs can revive series
LeBron James has never lost the first two games of a playoff series and the Cleveland Cavaliers superstar does not plan to do so against the Golden State Warriors in the NBA Finals today.
James has nine consecutive game-two wins after his teams have lost the opener of a playoff series and the Cavaliers are to test that streak after losing to the defending champions 104-89 on Thursday.
"I'm not discouraged at all," James said on Friday after analyzing a video of the defeat. "We had some opportunities. We played some good basketball for 36 minutes."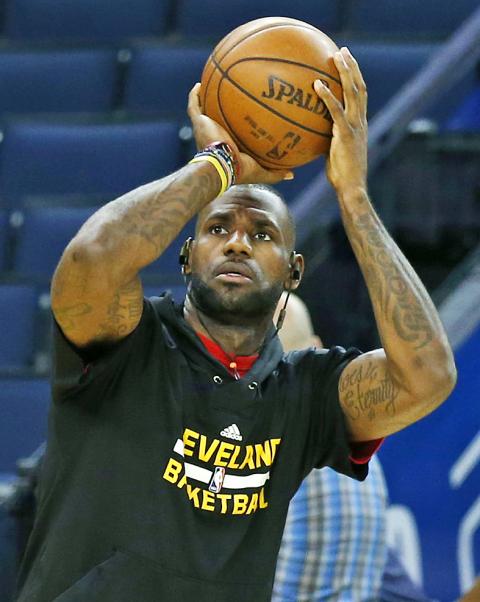 Cleveland Cavaliers forward LeBron James practices at the Oracle Arena in Oakland, California, on Friday.
Photo: EPA
"We definitely missed some really easy looks, some looks we're accustomed to making, that we've made all year," he said. "We were able to get where we wanted to go. We've just got to knock them home."
James had no explanation for his success in bouncing back from game-one defeats.
"I've been part of some resilient teams," James said. "My team has always been able to recalibrate, look at the mistakes in Game 1 and come up with a better plan in Game 2."
The Warriors will look to snap James' streak and seize a 2-0 edge in the best-of-seven series before the scene shifts to Cleveland, Ohio, for games on Wednesday and Friday.
"Sunday [today] is a huge game," Warriors coach Steve Kerr said. "We would like to go take care of business and get out on the road with a 2-0 lead, but we've got to play well."
The Warriors have beaten Cleveland six times in a row, three times in last year's NBA Finals and twice more in the regular season before Thursday's 104-89 drubbing.
"It's not like we have any control over them," Golden State's Draymond Green said. "They are used to winning. They are going to battle. They are going to compete and they are super talented. You can't come out saying: 'We beat them six in a row. We're good.' Absolutely not. As soon as you do that and let your guard down, it's a wrap."
In the opener, the Cavaliers contained three-point sharpshooters Stephen Curry and Klay Thompson, who combined for only 20 points on eight-of-27 shooting, and outrebounded Golden State 47-41, but their bench was outscored 45-10.
"To win the game the way we did with those guys struggling says a lot about this team," said Golden State's Draymond Green, who laughed at how he came to understand Kerr's team motto — strength in numbers.
"I thought it was corny when he first said it, but then you get to playing and you see what he means," he said. "It all comes together and it's like: 'Wow, that makes a lot of sense.' It's definitely something we try to live by. It's the depth. It's the camaraderie. It's all of us as one. It's very fitting for this team."
Comments will be moderated. Keep comments relevant to the article. Remarks containing abusive and obscene language, personal attacks of any kind or promotion will be removed and the user banned. Final decision will be at the discretion of the Taipei Times.