Barcelona's Messi compared to 'crime boss' at fraud trial
Spanish prosecutors on Friday called for Lionel Messi to be absolved on the final day of his tax fraud trial, but the lawyer representing fiscal authorities disagreed, comparing him to a "crime boss."
The Argentina and Barcelona star and his father, Jorge Horacio Messi, have been accused of using companies in Belize and Uruguay to avoid paying taxes on 4.16 million euros (US$4.6 million) of Lionel Messi's income earned from his image rights from 2007 to 2009.
Prosecutor Raquel Amado called for the soccer player to be let off in her closing arguments, a day after he took the stand and said he trusted his father with his finances and "knew nothing" about how his wealth was managed.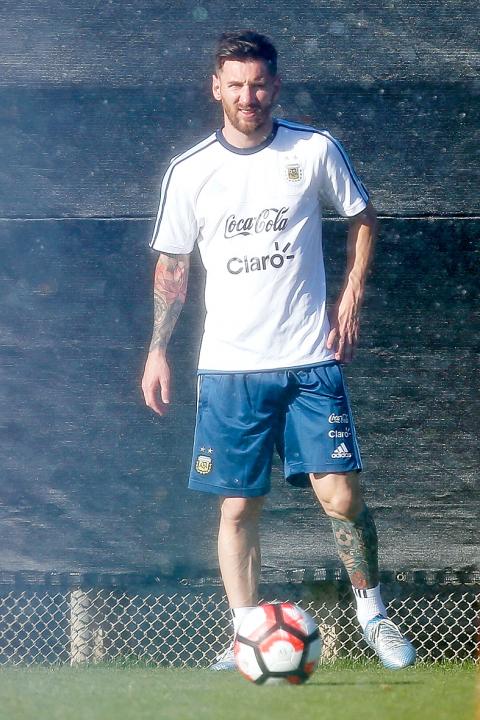 Lionel Messi takes part in a training session with the Argentina national team at San Jose State University in California on Friday.
Photo: AFP
"There is no evidence that anyone explained anything to him," she said.
However, Mario Maza, the state attorney representing tax authorities in the trial, said he found it unlikely that Lionel Messi knew nothing about the situation.
"There is no deliberate ignorance here. It is fraud and that is all there is to it, because he did not want to pay his taxes," Maza said. "It is like a crime boss. At the very top is the bigwig, who does not want to know about the details."
He is seeking a fine equivalent to the amount that was allegedly defrauded, plus a prison sentence of 22-and-a-half months for Lionel Messi and his father.
Any such prison sentence would likely be suspended as is common in Spain for first offenses carrying a sentence of less than two years.
The income related to Lionel Messi's image rights that was allegedly hidden includes endorsement deals with Banco Sabadell, Danone, Adidas, Pepsi-Cola, Procter & Gamble and the Kuwait Food Company.
Amado said that the contracts were long, complicated and in English.
"For a layperson, if they see so many lawyers signing it, they must believe that it is fine," she said in defense of Lionel Messi.
Maza said that the offense was not creating the actual companies, but the act of not paying the money owed to tax authorities.
However, both the prosecutor and attorney general said that Lionel Messi's father should be found guilty.
On Thursday, Jorge Horacio Messi had said he also did not understand the intricacies of managing his son's wealth.
"All of this was like basic Chinese to me," he said. "I asked [the advisers] to look after our assets … and they told us this was the best way."
Amado, who is seeking a jail sentence of one-and-a-half years for Lionel Messi's father, said that he could not "dodge his responsibility by accusing his advisers."
The companies in Uruguay — which much of the probe centers on — were created and managed by a Barcelona-based law firm with whom Jorge Horacio Messi communicated.
"Fraud takes place because there is a decision in that direction," Amado said.
Lionel Messi and his father did not attend the fourth and final day of the trial.
No date has been set for when the court is to issue its ruling.
Comments will be moderated. Keep comments relevant to the article. Remarks containing abusive and obscene language, personal attacks of any kind or promotion will be removed and the user banned. Final decision will be at the discretion of the Taipei Times.