'Rumble in Jungle' rated greatest fight
OPPONENT IN AWE: In the fight made famous by the 'float like a butterfly' line, George Foreman said Ali was amazing and had out-fought the then-champion
Boxing icon Muhammad Ali — "The Greatest" — captured the No. 1 victory of his career in 1974 by knocking out George Foreman to win the "Rumble in the Jungle."
Ali flattened the previously undefeated champion 2 minutes, 58 seconds into the eighth round in Kinshasa in what was then Zaire, but is now the Democratic Republic of the Congo.
In addition to an epic effort that displayed his boxing gifts, the triumph touched upon the role of Ali — who died on Friday at age 74 — as a cultural hero. He reclaimed the world heavyweight crown he had not held since being banned from boxing in 1967 for refusing to fight in the Vietnam War, a conviction overturned by the US Supreme Court in 1971.
Muhammad Ali, left, and George Foreman fight in Kinshasa on Oct. 30, 1974.
Photo: AFP
Using his now-legendary "rope-a-dope" strategy, Ali played upon fears that at 32 he might be seriously outmatched by the larger, more intimidating and younger Foreman, then a 25-year-old who entered the ring at 40-0 with 37 knockouts.
Ali leaned on the ropes and covered up while Foreman pounded away at him, his deflected blows doing minimal damage while spending precious energy.
Ali taunted the champion into swinging away as the rounds wore on that October night, while the crowd chanted "Ali, boma ye" (Kill him, Ali).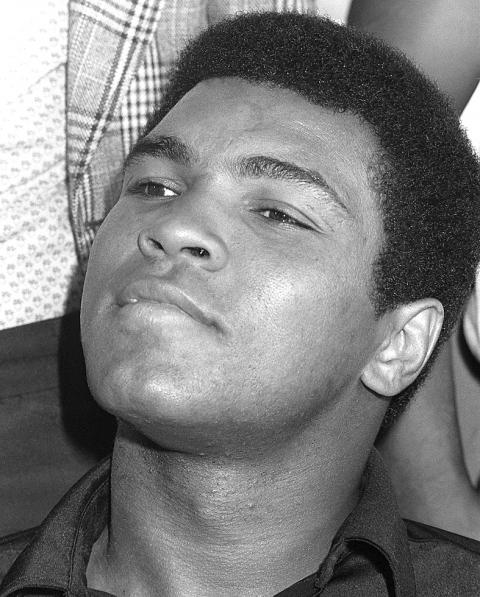 Former heavyweight boxing world champion Muhammad Ali poses for photographers in Kinshasa on Sept. 20, 1974.
Photo: AFP
Foreman began to tire, while Ali started landing fast jabs and hard punches. In the eighth round, Ali connected with a lightning-bolt right hand and Foreman stumbled to the canvas, beaten for the first time.
"Muhammad amazed me," Foreman said. "I'll admit it. He out-thought me. He outfought me. That night, he was just the better man in the ring."
In the run-up to the fight, Ali uttered some of the most magical of his rhyming quips. Among them:
"Float like a butterfly, sting like a bee — his hands can't hit what his eyes can't see."
"I'm so fast that last night I turned off the light switch in my hotel room and got into bed before the room was dark."
"I done something new for this fight. I done 'rassled with an alligator. I done tussled with a whale. I handcuffed lightning, I thrown thunder in jail."
"Only last week I murdered a rock, injured a stone, hospitalized a brick. I'm so mean I make medicine sick."
Ali was diagnosed in 1984 with Parkinson's disease, which ended the snappy banter that had been his trademark.
Foreman, who needed 20 years to regain the crown, could not deny Ali's greatness.
"Muhammad Ali has always been bigger than boxing," Foreman said in a 2014 essay on his Web site.
"I say Ali was the greatest man because there has never been a man so young and so good at what he did, give up so much," he added.
"I say boxing is too small for Muhammad Ali. He changes the very world. No other boxer could do that," Foreman said.
Comments will be moderated. Keep comments relevant to the article. Remarks containing abusive and obscene language, personal attacks of any kind or promotion will be removed and the user banned. Final decision will be at the discretion of the Taipei Times.