Tanaka leads the Yankees to victory
'UNBELIEVABLE': Alex Rodriguez heaped praise on the Japanese pitcher, saying he was very efficient with the ball and that he could have pitched the whole game
Japan's Masahiro Tanaka pitched seven shutout innings and Alex Rodriguez homered for the first time since coming off the disabled list as the New York Yankees beat Tampa Bay 4-1 on Friday night.
Tanaka (3-0) scattered two hits and struck out four to run his career-best unbeaten streak to 11 consecutive starts, dating to last season.
"He was unbelievable," Rodriguez said. "He was so efficient with his pitches. He could have pitched a complete game."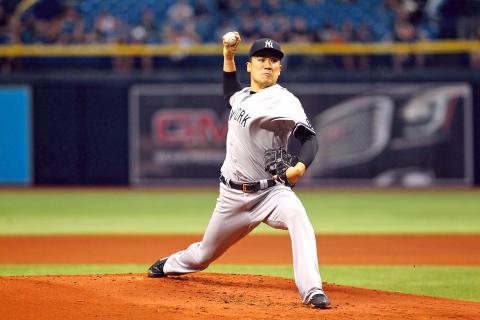 The New York Yankees' Masahiro Tanaka pitches in the first inning of the MLB game against the Tampa Bay Rays at Tropicana Field in St Petersburg, Florida, on Friday.
Photo: AFP
Tanaka retired his first 12 batters before Pearce's leadoff single in the fifth. He got help to end the inning when Gardner made a leaping catch at the left-field wall on Corey Dickerson's drive. The pitcher humbly turned the focus on his teammates when asked about his effort on the mound.
"Maybe not as sharp as it looked," Tanaka said through an interpreter. "I think our defense played spectacularly."
Rodriguez returned on Thursday after missing three weeks with a strained right hamstring. His sixth homer of the season and 693rd overall off Chris Archer came during a three-run sixth.
"It's always good to produce and drive the ball like that," Rodriguez said of his estimated 134m shot.
Carlos Beltran homered in the eighth for the Yankees.
In Toronto, Josh Donaldson hit two home runs and drove in five runs as the Blue Jays snapped a five-game home losing streak, beating Boston 7-5.
The reigning AL MVP was four-for-five, starting the scoring with a first-inning solo shot, and then providing the winning margin with a two-run drive, his 13th of the year in the eighth.
Justin Smoak added a solo shot in the fifth inning. Joe Biagini (2-1) got four outs and Roberto Osuna pitched the ninth for his 11th save.
Japanese pitcher Koji Uehara (2-2) struggled in the eighth inning for the Red Sox, allowing Ezequiel Carrera — starting for the suspended Jose Bautista — to reach on a bunt before surrendering the home run to Donaldson.
In Washington, Stephen Piscotty hit a grand slam off Max Scherzer during a five-run third inning and Jaime Garcia nullified the Nationals as the St Louis Cardinals won 6-2.
Coming off consecutive ineffective starts, Garcia (4-4) held Washington to two runs and seven hits over seven innings.
Scherzer (5-4) allowed two earned runs in each of his previous three starts including his 20-strikeout gem on May 11 in a victory over Detroit. That version did not show early against St Louis. He walked four batters and allowed five runs, all by the third inning.
The New York Mets' Curtis Granderson homered leading off the bottom of the ninth to clinch a 6-5 victory over the LA Dodgers.
Chase Utley, who was booed all night in his return to Citi Field, hit a tying three-run double off Jeurys Familia with two outs in a four-run ninth inning for the Dodgers before Granderson's homer, which moved New York back into the NL East lead, by percentage points over Washington.
In other games, the Chicago Cubs won 6-2 at home to Philadelphia, Baltimore won 6-4 at Cleveland, Kansas City beat the visiting Chicago White Sox 7-5, the LA Angels won 7-2 at home to Houston, Pittsburgh won 9-1 at Texas, Atlanta had a rare home win, 4-2 over Miami, Milwaukee beat visiting Cincinnati 9-5, Colorado won 5-2 at home to San Francisco, San Diego won 10-3 at Arizona, Detroit won 4-1 at Oakland and Minnesota won 7-2 at Seattle.
Comments will be moderated. Keep comments relevant to the article. Remarks containing abusive and obscene language, personal attacks of any kind or promotion will be removed and the user banned. Final decision will be at the discretion of the Taipei Times.