Australian Daniel Ricciardo takes first F1 pole in Monaco
Australian Daniel Ricciardo yesterday seized the first pole position of his Formula One career at the Monaco Grand Prix, with world championship leader Nico Rosberg joining him on the front row for Mercedes.
The pole, in a time of 1 minute, 13.622 seconds, was former champions Red Bull's first since the Brazil Grand Prix in November 2013.
Triple world champion Lewis Hamilton qualified in third place, a remarkable recovery after he suffered a fuel pressure problem at the start of the final session and had to be pushed back along the pitlane.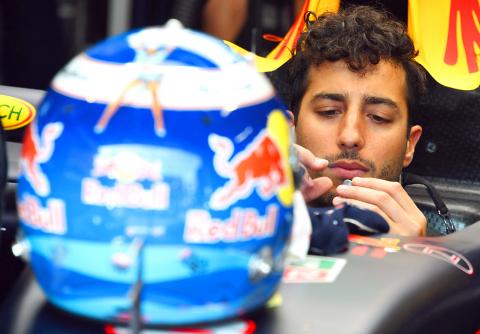 Infiniti Red Bull Racing's Australian driver Daniel Ricciardo yesterday sits in his car in the third practice session at the Monaco street circuit.
Photo: AFP
Ferrari's Sebastian Vettel, the last driver before Ricciardo to start a race on pole for Red Bull, will join the Briton on the second row for a race where overtaking is extremely difficult.
'MAKE THE CAR DANCE'
With its harbourside backdrop, confined Casino Square, tight hairpin turns and tunnel stretch, Monaco is a blast from the past that allows the best to show off their skills and express themselves.
"It's an incredible feeling, making a car dance through those streets," Hamilton said. "It's one of the purest thrills you can have in a racing car."
Mexican Esteban Gutierrez, driving for the US-based Haas team after previously racing for Sauber, agreed about the dancing.
"I love this track," he said. "Everything is about improvising ... you don't have time to think. It's pure driving and all the focus and concentration is really going into driving. You have the car dancing and you make it dance."
Known as the "Jewel in the Crown" of the Formula One championship, Monaco has always been the race that drivers want to win, but it also requires finesse to avoid the unforgiving barriers.
Brazilian Nelson Piquet's comment that racing around Monaco was like riding a bicycle in your living room has become a well-worn cliche, but the sense of balance and poise remains as crucial now as then.
"It's a course where speed is not terribly important," three-times winner Stirling Moss told Reuters at the recent Monaco Historic race. "It's just how good the car is, how well you can handle the car. It really is a fabulous race."
Comments will be moderated. Keep comments relevant to the article. Remarks containing abusive and obscene language, personal attacks of any kind or promotion will be removed and the user banned. Final decision will be at the discretion of the Taipei Times.