J.A. Happ falters as Rays crush Toronto
FAILURE TO EXECUTE: The Blue Jays' starter blamed his poor performance on not finding his two-seam fastball, saying that it was cutting instead of fading or sinking
J.A. Happ has been a model of consistency for the Blue Jays this season.
His streak of superb starts came to a sudden end against the Tampa Bay Rays.
Curt Casali hit a three-run home run, Tim Beckham and Steve Pearce each hit two-run blasts and the Rays had four homers while beating Happ and Toronto 13-2 on Monday night.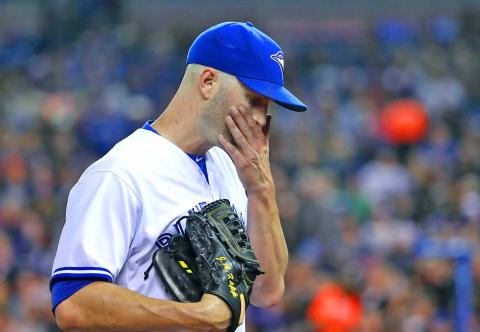 The Toronto Blue Jays' J.A. Happ walks off the field after being relieved in the third inning of their MLB game against the Tampa Bay Rays in Toronto on Monday.
Photo: AFP
Happ (5-1) entered as one of six undefeated big league starters, but matched a career worst by allowing eight runs and seven hits in two innings.
"I just didn't execute," Happ said. "It got away from me quick."
It was the first time in eight starts this season that the left-hander had allowed more than three earned runs, and the first time he had failed to pitch at least six innings.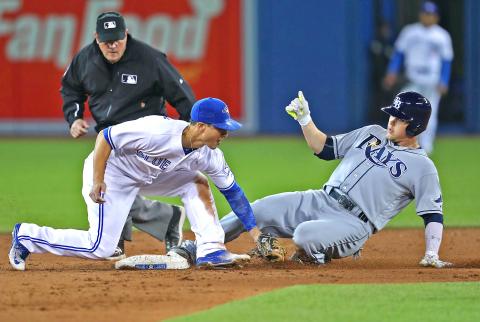 The Tampa Bay Rays' Brandon Guyer, right, slides safely into second base before the Toronto Blue Jays' Darwin Barney can apply the tag in the eighth inning of their MLB game at the Rogers Centre in Toronto on Monday.
Photo: AFP
"He's human, you know? He's been so good, he's been on such a nice little run. Chuck it out, move on," manager John Gibbons said.
Happ's woeful outing snapped a streak of 19 straight games in which Blue Jays starters worked at least six innings.
Happ blamed his struggles on an inability to locate his two-seam fastball.
"It was cutting on me instead of fading or sinking," Happ said. "Then I tried to feel for it a little bit and that's always a mistake. You've got to be aggressive with everything."
Gibbons was ejected by home plate umpire Mike Winters for arguing a called third strike in the fourth.
It was the third ejection of the season for Gibbons and his second in two games — he was one of eight tossed in a game on Sunday against Texas that included Rougned Odor's punch to the jaw of Jose Bautista. Toronto have lost three straight.
Desmond Jennings also homered, as the Rays set season highs in runs and hits (17).
"Just a great offensive outpouring by everybody," Rays manager Kevin Cash said. "A lot of balls were hit with authority."
Jennings and Steven Souza Jr each had three hits in the opener of an eight-game, three-city trip.
Drew Smyly (2-4) allowed one run and four hits in five innings to win for the first time in four starts.
Staked to a 2-0 lead on Pearce's first-inning homer, Smyly nearly gave it back in the bottom half by walking the bases loaded with two-outs, throwing 10 straight balls at one stretch.
Smyly escaped the first by striking out Troy Tulowitzki on a 2-2 fastball.
Steve Geltz, Ryan Webb, Dana Eveland and Enny Romero each worked one inning for Tampa Bay.
Pearce connected off Happ in the first for his sixth. After Kevin Kiermaier's sacrifice fly, Beckham made it 6-0 with a one-out drive in the second, his first.
Souza chased Happ with an RBI single in the third and right-hander Dustin Antolin came on for his Major League debut. After Jennings lined out to third, Casali drilled a three-run homer, his fifth.
Jennings, who came in zero for his past nine, made it 11-0 with a two-out, two-run double off Antolin in the fourth and then capped it with a leadoff blast off Jesse Chavez in the ninth.
In other results, it was:
‧ Marlins 5, Phillies 3
‧ Tigers 10, Twins 8
‧ Pirates 8, Braves 5
‧ Indians 15, Reds 6
‧ Diamondbacks 12, Yankees 2
‧ Athletics 3, Rangers 1
‧ Angels 7, Dodgers 6
Comments will be moderated. Keep comments relevant to the article. Remarks containing abusive and obscene language, personal attacks of any kind or promotion will be removed and the user banned. Final decision will be at the discretion of the Taipei Times.