Jenny Shin claims maiden LPGA title at Texas Shootout
Jenny Shin won the Volunteers of America Texas Shootout on Sunday for her first LPGA Tour victory, pulling away for a two-stroke victory at Las Colinas.
Making her 135th LPGA Tour start, Shin closed with a four-under 67 to finish at 14-under 270. The 23-year-old South Korean player went to high school in Torrance, California, and won the 2006 US Girls' Junior title.
"Still in awe. Nothing has registered yet," Shin said. "I wanted to talk to my mum, but I was on the verge of tears, so I hung up without really her answering the phone. I think it will hit me as soon as I talk to my mum."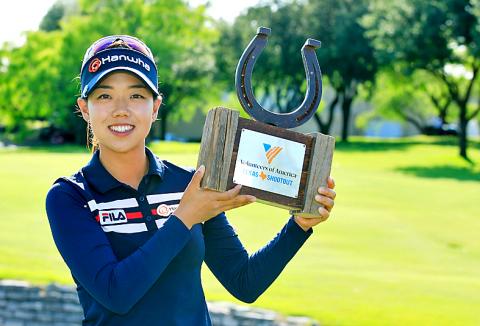 Jenny Shin poses with the trophy after her two-stroke victory at the Volunteers of America Texas Shootout at Las Colinas Country Club in Irving, Texas, on Sunday.
Photo: AFP
Third-round leader Gerina Piller, the local resident seeking her first LPGA Tour victory, birdied the final hole for a 73 to tie for second with South Koreans Amy Yang and Hur Mi-jung.
"I was proud of the way I finished. I'll be back," Piller said after her fourth straight top-six finish.
Yang and Hur each shot a 71.
Shin birdied three of the first five holes and added another on the par-five 10th. She closed with eight pars, the last an up-and-down save from right of the green on the par-five 18th.
"I actually didn't know I was in front of everybody, I thought Amy Yang was only one stroke behind, so I was really nervous on the last hole," Shin said.
Other players showered her with beer after the victory.
"It wasn't something I pictured, for sure," Shin said. "I wanted something like champagne, but now I'm stinking of beer. Then they were like: 'Oh, you stink of beer.' Then they shower you more with water, but it's still good. I'm so glad they stuck around and gave me a shower of beer."
Shin is projected to jump from 38th to 24th in the world rankings.
"Nothing's easy, golf is not easy," Shin said. "I worked my butt off out there. I didn't have my 'A' game this week, surprisingly, and to know that I won with kind of a semi-goodish game, it makes me very happy."
Piller lives in Plano, just over 30km from Las Colinas. The long-hitting US Solheim Cup hero grew up in Roswell, New Mexico, and played at the University Texas-El Paso. A number of high-school and college friends joined her family — led by her husband, PGA Tour player Martin Piller — in the gallery.
"The thing that makes it more special is I don't have to play good golf for them to continue to love me, so that's pretty cool," Piller said.
Kaohsiung-born Candie Kung shot a 71 to finish tied for 16th on four-under, while Taiwan's Hsu Wei-ling (70) was tied for 51st on six-over alongside Karah Sanford (77), a 14-year-old high-school student from San Diego.
World No. 5 Brooke Henderson closed with a 71 to tie for 19th place at three-under, ending the 18-year-old Canadian's run of eight consecutive of top-10 finishes.
Additional reporting by staff writer
Comments will be moderated. Keep comments relevant to the article. Remarks containing abusive and obscene language, personal attacks of any kind or promotion will be removed and the user banned. Final decision will be at the discretion of the Taipei Times.