Ranieri focused only on Leicester City
'SEX MASOCHISM': Manchester United coach Louis van Gaal grabbed a reporter's hair and used a strange term to describe a challenge on Belgium midfielder Fellaini
All eyes were likely to be on Stamford Bridge last night as the English Premier League title race moved to the home of Chelsea — except those of Leicester City coach Claudio Ranieri.
Leicester, who drew 1-1 at Manchester United on Sunday, were to complete their historic quest for the title if second-placed Tottenham Hotspur could not end a 26-year wait for a victory at Chelsea.
However, Ranieri was to be flying back from Italy, where he said he was due to meet his 96-year-old mother for lunch, while he was not sure if his players would be huddled around a television either.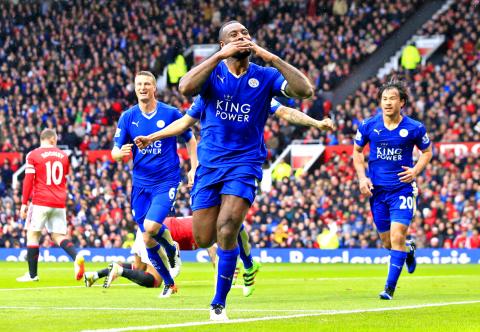 Leicester City's Wes Morgan, center, celebrates after scoring against Manchester United in their English Premier League match at Old Trafford in Manchester, England, on Sunday.
Photo: AP
Asked if the Leicester squad would be assembling to watch the game, Ranieri replied: "I do not know. I did not ask. They are free. They have a day off."
If Spurs were to succeed in defeating Chelsea, last season's champions, Leicester could secure the title in front of their own fans by beating Everton at the King Power Stadium on Saturday.
However, even though Ranieri was sacked by Chelsea in 2004, becoming the first managerial casualty of Russian owner Roman Abramovich's tenure, he was hoping that his former employers do Leicester's job for them.
"I want to win. It is not important when, believe me," Ranieri, 64, said. "If I have a chance to win tomorrow, for us it is important to win."
"In my mind, Tottenham will win all three matches. I am now focused on the Everton match. When I was Chelsea manager, the true derby was against Tottenham. It is a derby," he added.
Chelsea preventing Spurs from winning would allow Ranieri to return to Stamford Bridge in triumph for Leicester's final game of the season, but he said he is keeping his mind firmly on the here and now.
"I do not want to speak about so long [ago]," he said. "I want to speak about the next match [against] Everton. I know all the city is blue, but we must continue to stay concentrated without special fireworks. We have to stay there, on the pitch, and think there will be another tough match."
Leicester are to be without Danny Drinkwater against Everton after the midfielder was sent off for two bookings on his return to his former club.
"I am very sad because he will [miss] the next game at home," Ranieri said. "I hope I do not miss him."
It was an unwelcome novelty for United to be involved in a potential title-decider that did not directly concern them, but coach Louis van Gaal did his best to steal Leicester's limelight after the match.
Seeking to defend Marouane Fellaini, who is likely to face retrospective action for elbowing Robert Huth, Van Gaal went to great lengths to assert that Huth was to blame for pulling Fellaini's hair.
To illustrate his point, the Dutchman grabbed a handful of a television reporter's hair and in a subsequent interview, he said that hair-pulling could only be permitted during what he termed "sex masochism."
Anthony Martial rewarded United's impressive start by giving the hosts an eighth-minute lead from Antonio Valencia's cross, but Leicester equalized nine minutes later when Drinkwater crossed for Wes Morgan to head home.
The result left United four points off the UEFA Champions League berths, but with fourth-placed Manchester City, on whom United have a game in hand, losing 4-2 at Southampton on Sunday ahead of their home game with third-placed Arsenal this weekend, hope is not yet lost.
Speaking before City's game at St Mary's had finished, Van Gaal said: "I have said you have to win every game that we have to play, so now already we are not closing the gap."
Comments will be moderated. Keep comments relevant to the article. Remarks containing abusive and obscene language, personal attacks of any kind or promotion will be removed and the user banned. Final decision will be at the discretion of the Taipei Times.