Lower costs fuel Everest safety fears
After 17 years of helping climbers reach the roof of the world, Argentinian Damian Benegas will not be returning to Everest this year, frozen out of the business by cheaper, and some say more dangerous, operators.
"It's impossible to convince clients to pay us US$65,000 for an expedition when there are guys offering trips for US$28,000 or less," the respected guide said.
As mountaineers ascend Everest this month during the spring climbing season, fewer Western companies will be leading the expeditions, with Nepal's sherpas increasingly running the lucrative business.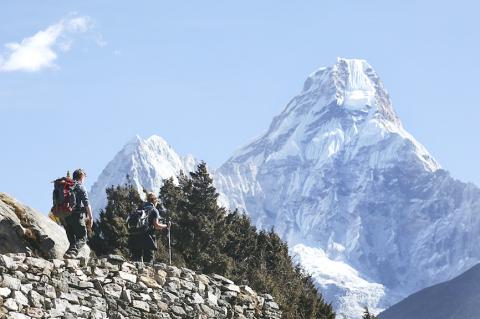 Trekkers make their way to Dingboche, a popular Mount Everest base camp, in Pangboche, Nepal, on Feb. 19.
Photo: AP
Western veterans accuse some of the new operators of endangering lives by recruiting untrained sherpas and by accepting clients with little mountaineering experience.
"The new lot, they hire these young boys who have never been on a mountain and their first trip is carrying loads to the South Col [about 7,900m]," said Russell Brice, owner of top expedition company Himex.
"How is that fair? Who is looking after them?" the New Zealander said.
After the first summit in 1953 by sherpa Tenzing Norgay and New Zealander Edmund Hillary, Everest was dominated for decades by Western expedition companies.
Western operators offered mostly foreign climbers a chance to fulfil their dream of scaling the 8,848m high peak for US$45,000 to US$79,000.
As the industry grew, sherpas, an ethnic group thought to be of Tibetan origin and known for their climbing skills, became indispensable as guides and porters.
However, over the past five years, local climbing companies, many run by former guides and porters, have shaken up Nepal's mountaineering market, offering cheaper, no-frills expeditions.
Leading Western companies secured only 119 climbing permits this season — which is resuming after a deadly avalanche hit base camp last year and which usually runs until the end of May — less than half the total number allocated.
Nepalese firms do not hire foreign guides and therefore avoid paying the US$11,000 government fee for climbing permits, a cost that has traditionally been passed onto clients.
Many have also scaled back on luxuries like Wi-Fi and expensive batteries to power clients' smartphones and laptops.
However, according to some, operators are also lowering costs through using cheap labor — by emptying remote Himalayan villages of young men who see a job on Everest as their way out of poverty.
Nepal's Department of Tourism head Sudarshan Prasad Dhakal said the government was not aware of such concerns, while some locals say the Westerners have sour grapes after years of earning large sums on Everest.
Mingma Sherpa is one guide who uses inexperienced villagers on his expeditions to Everest, taking on up to 25 fresh faces every season.
Sherpa, owner of local company Seven Summit Treks, rejects the safety claims, saying his youngsters start at the bottom and meticulously learn from their peers, rather than undertaking formal training courses.
Sherpa is taking 45 clients to Everest this season and none are required to have high-altitude experience. Anyone "in good physical shape" can climb Everest because plenty of skilled sherpas are on hand to help, he said.
"The only difference between climbing a small mountain and Everest is the need for oxygen, which we provide. Anyone can do this," he said.
However, Dawa Steven Sherpa, managing director of another local firm, Asian Trekking, among the oldest operators in the Himalayas, said he is increasingly worried.
"The combination of untrained sherpas and inexperienced climbers is a lethal cocktail, but luckily there are better-equipped companies to rally around in case of accidents," he said.
For Benegas, who has led many rescue efforts on Everest over the years, the situation is grim.
"This is their country, their mountain — they have a right to do what they want, but we need to be honest about the cost," he said.
Comments will be moderated. Keep comments relevant to the article. Remarks containing abusive and obscene language, personal attacks of any kind or promotion will be removed and the user banned. Final decision will be at the discretion of the Taipei Times.