Fury 'hates' boxing, taunts Klitschko
'NOT OK': The former heavyweight champion said that his message to anyone who thinks that all women belong in the kitchen and on their back is: 'Fuck off'
Tyson Fury said Wladimir Klitschko had let a "fat man beat him" before insisting he hated boxing at a foul-mouthed news conference to promote their world heavyweight title rematch.
British boxer Fury ended Klitschko's nine year-reign as a world champion with a unanimous points win in Duesseldorf, Germany, in December last year.
The pair are to meet again in Fury's home city of Manchester, England, on July 9 and it was there that the Englishman continued to taunt the Ukrainian at a news conference on Wednesday, where he took to the stage accompanied by several cheerleaders.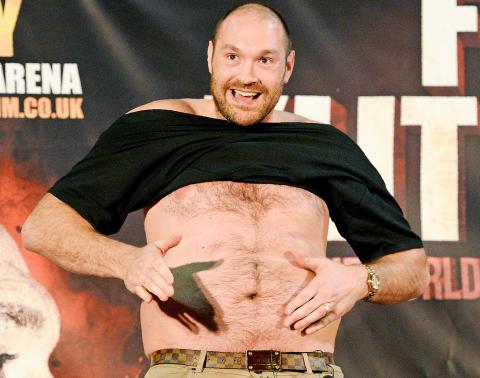 British heavyweight boxer Tyson Fury reacts at a news conference in Manchester, England, on Wednesday.
Photo: AFP
"I don't live a strict lifestyle — I don't even live an athlete's lifestyle," said Fury, unbeaten in 25 professional bouts.
"It is an absolute disgrace to call me an athlete," he added, before taking off his shirt and shouting at Klitschko: "Shame on you — you let a fat man beat you."
On a seemingly more serious note, Fury said: "Boxing doesn't mean a lot to me. If it did, I wouldn't have gone into camp four stone over weight and eaten every pie in Lancashire and drunk every pint of beer in the UK. I hate every second of it and I wish I wasn't a boxer, but I'm in this position."
"I hate the training, the boxing, speaking to you all you idiots [the press], the whole lot. I'd rather be at home with the kids watching television. I hate boxing, but I'm just too fucking good at it and making too much money to stop," he added.
"I am like a performing monkey. I am really a joke, aren't I? Every time I play the bad guy, the villain, the outlaw, the outcast. But the majority of people like to see that," he said.
Fury, 27, promised to beat Klitschko even more comprehensively than he had in Duesseldorf.
"You got beaten fair and square the first time in Germany. You got whupped. You will need to be about 1,000 times better, because you landed about four shots in 12 rounds. If the super champion can't land on a big, fat, lazy gypsy with a loud mouth, what kind of super champion is he? He must be a shit one," Fury said.
Klitschko said he is looking forward to making Fury pay for comments where the Briton had equated homosexuality and abortion with pedophilia and said "a woman's best place is on her back."
"I am not OK with what comes out of Fury's mouth, his statements," Klitschko said. "For example — that all homosexual men and women and pedophiles belong in the same place, in jail basically. That all women belong in the kitchen and on their back."
"So that is basically where he sees Elton John and the Queen. To all people who say the same and think the same way out there, and to you Fury — I want to say: 'Fuck off,'" Klitschko added.
Klitschko, beaten just four times in 68 bouts, had not lost for more than 11 years until he faced Fury, unbeaten as a professional. When Klitschko's brother, Vitali, retired in 2013, the pair held all the major heavyweight titles between them.
However, following Wladimir's loss to Fury, the belts are now spread far and wide.
Fury holds the World Boxing Association and World Boxing Organization titles, fellow Briton Anthony Joshua is the International Boxing Federation champion, with Deontay Wilder of the US the World Boxing Council's heavyweight king.
Comments will be moderated. Keep comments relevant to the article. Remarks containing abusive and obscene language, personal attacks of any kind or promotion will be removed and the user banned. Final decision will be at the discretion of the Taipei Times.