Velasquez strikes out 16 in Phillies victory
Philadelphia's Vince Velasquez struck out a career-high 16 batters in a dominant shutout victory as the Phillies beat San Diego 3-0 on Thursday.
Ryan Howard homered for the Phillies, who required little more against a Padres side who have failed to score in half of their 10 games this season.
There was a similarly commanding pitching performance in St Louis, where Jaime Garcia gave up only one hit in steering the Cardinals to victory over Milwaukee.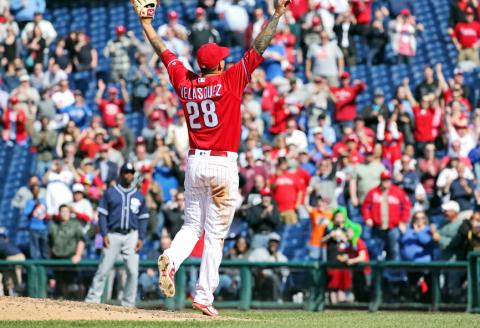 Philadelphia Phillies starting pitcher Vince Velasquez celebrates his shut-out victory over the San Diego Padres at Citizens Bank Park in Philadelphia on Thursday.
Photo: AFP
Elsewhere, the Chicago Cubs continued their strong start to the new campaign by cruising past Cincinnati, while Bryce Harper hit a grand slam for his 100th career homer as Washington downed still-winless Atlanta.
Philadelphia's Velasquez (2-0) had no walks and extended his scoreless streak to 15 innings. The 23-year-old, acquired in the trade that sent former closer Ken Giles to Houston, also had nine strikeouts in a shutout victory against the New York Mets on Saturday.
Velasquez retired the last 14 batters he faced. He fanned Wil Myers on a fastball to end it, threw both arms up in the air and jumped off the mound.
San Diego have scored just one run over their past three games.
St Louis' Jaime Garcia produced 13 strikeouts — three more than his previous career high — as the Cardinals downed Milwaukee 7-0.
Eight of the 13 strikeouts ended with the batters out looking at third strikes, clearly unable to get a fix on Garcia's pitch choice and delivery. He was 4-1 with a 1.44 ERA in his past five starts against the Brewers.
Randal Grichuk and Jeremy Hazelbaker hit two-run homers for the Cardinals.
The Cubs are off to their best start to a season since 1969, improving to and 8-1 record with, fittingly, an 8-1 win over Cincinnati.
Jason Hammel (1-0) pitched six scoreless innings, drove home a run and scored another.
Washington's Harper came up with a spectacular way to reach 100 career homers, with his grand slam shot smashing a panel on the electronic scoreboard.
Harper connected for his slam in the third inning and became the eighth-youngest player to hit 100 homers. The reigning National League MVP is 23 years, 181 days old, while Hall of Famer Mel Ott was more than a full year younger when he became the youngest to do it.
Atlanta slipped to 0-9, as did Minnesota, becoming the first teams in 13 years to start a season that badly. They will be hoping to avoid becoming the first 0-10 team since 1988.
Minnesota slipped to 0-9 after a 3-1 home defeat at the hands of the Chicago White Sox.
The Twins have scored only 14 runs this season.
In other games, it was:
‧ Dodgers 5, Diamondbacks 2
‧ Blue Jays 4, Yankees 2
‧ Royals 6, Astros 2
‧ Rangers 6, Orioles 3
‧ Tigers 7, Pirates 4
‧ Indians 6, Rays 0
‧ Rockies 11, Giants 6
Comments will be moderated. Keep comments relevant to the article. Remarks containing abusive and obscene language, personal attacks of any kind or promotion will be removed and the user banned. Final decision will be at the discretion of the Taipei Times.