Mercedes' Hamilton looks to stop the rot with treble in China
Formula One world champion Lewis Hamilton is set to face a severe test of his mental strength in China this weekend as he tries to halt Nico Rosberg's blistering start to the season.
The Briton, who is chasing a third successive victory in Shanghai, denied that his Mercedes teammate has struck a psychological blow by winning the first two races, insisting the early skirmishes count for little with 19 grands prix left in a championship with more rounds than ever.
Hamilton has failed to win since securing his third world championship in Texas in October last year, while German rival Rosberg, who has opened up a 17-point lead over his fierce rival, has won the past five races dating back to last year.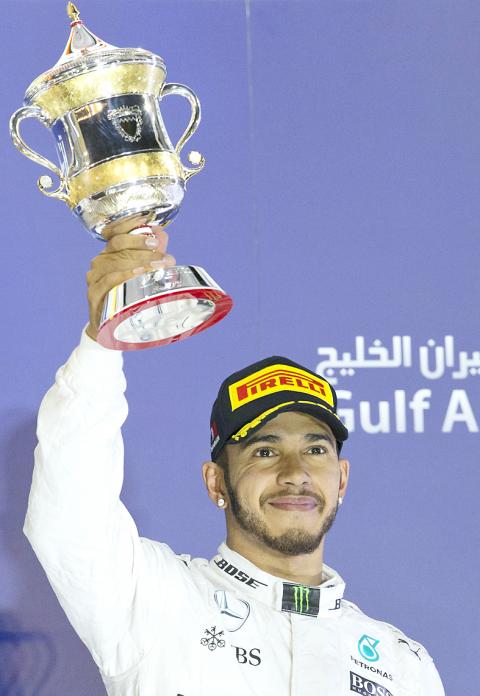 British Formula One driver Lewis Hamilton celebrates after the Bahrain Formula One Grand Prix at the Sakhir circuit near Manama, Bahrain, on Monday last week.
Photo: EPA
"I couldn't care less if he's won the last five," said Hamilton, who was rammed by the Williams of Valtteri Bottas at the first corner before finishing third behind Kimi Raikkonen's Ferrari in Bahrain two weeks ago, despite starting on pole for the second race in a row.
"Anything can happen," he said.
However, the 31-year-old knows that failure to stop the rot in China could add weight to suggestions that he has lost a little of his edge since winning his third world title, a success he celebrated by partying long and hard.
Hamilton is still searching for the swashbuckling form that swept him to victory last year when he dominated in Shanghai, prompting a tantrum from Rosberg.
Worryingly also, Mercedes boss Toto Wolff has warned that the clutch problems that have sabotaged Hamilton's starts, setting him back in the first two races, might not be fixed in time for China.
Despite his problems, Hamilton is unlikely to suffer a crisis of confidence — nor is he likely to enlist the help of sports psychologists as he attempts a fifth win in China, after recently dismissing the practice of hiring driver coaches as a "bunch of crap."
However, he is probably anxious to avoid the kind of controversy he courted in Shanghai last year when he sprayed champagne in the face of a Formula One hostess, triggering outrage on social media.
Rosberg is likely buzzing after a superb drive at Bahrain's desert circuit, and the German knows that victory in Shanghai could put real pressure on Hamilton.
Raikkonen showed genuine pace in Bahrain, but Ferrari are more concerned about reliability after Sebastian Vettel's engine blew on the warmup lap, the second successive race they have suffered mechanical failure.
US newcomers Haas are looking to build on their impressive start to the season after Romain Grosjean's fifth place last time out, while Fernando Alonso hopes to be passed fit to return for McLaren after his horror crash in Australia.
Cash-strapped Sauber have secured a sponsorship advance from their Swedish backers to pay staff salaries and take their place on the grid in China, a reminder of the financial demands on F1 outfits.
Meanwhile, rebellious teams have forced the sport's governing body to revert to the qualifying format used last year after the fiasco caused by the new system in Australia and Bahrain.
The Chinese race is to see a return to last year's qualifying system after the experiment with "progressive elimination," where cars were steadily knocked out, often left fans staring glumly at an empty track.
Comments will be moderated. Keep comments relevant to the article. Remarks containing abusive and obscene language, personal attacks of any kind or promotion will be removed and the user banned. Final decision will be at the discretion of the Taipei Times.