Battle of the sexes: Exploring the pay gap in tennis
With renewed scrutiny on the disparate compensation paid to male and female athletes after a wage discrimination lawsuit filed by the US women's soccer team, tennis has been cited as a leader in gender equality among major sports.
However, even in tennis, where men and women compete alongside one another at the same stadiums around the world, female players still earn significantly less than their male peers.
Grand Slam tournaments and the handful of other top combined events that pay men and women equally remain the exceptions.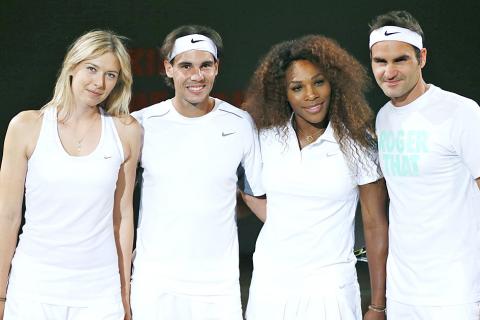 From left, Russia's Maria Sharapova, Spain's Rafael Nadal, the US' Serena Williams and Switzerland's Roger Federer pose for photographers before performing for children in an exhibition game in Malakoff, Paris, on May 23, 2013.
Photo: AFP
Raymond Moore, the tournament director of the BNP Paribas Open in Indian Wells, California, an equal prize money event, resigned last month, after saying that WTA players were "lucky" to be able to "ride on the coattails of the men."
His comments led to conversations at subsequent tournaments about the financial realities for men and women in tennis.
At the Volvo Car Open in Charleston, South Carolina, last week, several top players pointed out that the discussion of equal pay often distorts the distinct advantage male players still have in annual compensation.
"The facts were not put on the table; the fact is we do not earn equal prize money," said Andrea Petkovic, a German player who is ranked 30th in the world. "It is not true. We only earn it in the Grand Slams and a few other tournaments, but men earn more than we do. I think it was discussed in the wrong manner, and that was very sad to see."
Although men and women are compensated more comparably in tennis than in any other major sport, the annual prize money paid to the top 100 earners on the WTA and ATP Tours roughly matches the general pay gap in US workplaces, with female tennis players earning $US0.8 0on each US$1 men earn. The median pay gap between a woman in the top 100 and her opposite number on the men's tour is US$120,624.
"I think that sometimes we just hope that those problems are in the past, and that we have come much further," Petkovic said. "But it is good to be confronted with the thoughts of men that still think that way, and it is maybe nice for us to have discussions with them and to explain our point of view. I just wish that we would be a leader, that it would not matter about who is more popular, who is this or that. We, as a sport, could stand for something more than equal prize money — we would stand for community and sportsmanship."
Billie Jean King, who pushed for equality as the women's professional game developed, has remained an advocate for women's issues in sports and many other areas.
"We have a chance to continue to lead," King said of tennis. "To have equal prize money in the majors sends a message. It is not about the money, it is about the message."
That message shines brightest under the sport's biggest spotlights, at the four Grand Slam events, where men and women are paid equally. The US Open became the first Grand Slam event to offer equal pay, in 1973, and Wimbledon the last, in 2007.
However, at other large combined ATP-WTA tournaments, where the men and women are sold together under one ticket, the prize money disparity can be stark. The Western and Southern Open in Mason, Ohio, the biggest event in the weeks before the US Open, attracts dazzling constellations of top men's and women's stars each year to the fourth-largest tennis tournament in the US.
The tournament, in which the US Tennis Association owns a majority stake, pays the women only US$0.63 on the dollar as compared with the men. Last year, Roger Federer received US$731,000 for defending his title at the tournament, while Serena Williams received US$495,000 for defending hers hours later.
Organizers cite a technicality in the WTA's structure to justify the pay differential. The tournament is one of nine Masters 1000 events, the top tier on the ATP Tour. However, the top tier of the WTA Tour is four Premier Mandatory events, which include tournaments in Miami, Madrid and Indian Wells, California, where women can expect equal compensation to men. The Ohio event sits in the next tier, the Premier 5.
Women are also paid less than men at similar Premier 5 events in Canada and Rome, which are held in conjunction with men's tournaments.
The pay gap extends all the way down the ladder on ATP and WTA tours. According to a 2014 study by the International Tennis Federation that analyzed the average costs for playing professional tennis and the prize money from the previous year, 336 male players could earn enough to cover average expenses, while only 253 women could.
Prize money is generated from each tournament's sponsors, television rights deals, ticket sales and other on-site concessions. The total revenues of the ATP and WTA tours has fluctuated, with a gap of US$2.6 million in 2008 giving way to a men's advantage of US$37.4 million in 2014.
To capitalize on the popularity of superstars like Federer, Novak Djokovic and Rafael Nadal, the ATP Tour in recent years has gained significant increases in prize money, and those increases have benefited women in equal-pay events. That does not please everyone in the sport.
Sergiy Stakhovsky, a member of the ATP Player Council, said he wanted to see a moratorium on adding combined events to allow the men's game — "a different product, which is better" — to stand on its own. Stakhovsky, ranked 111th, bristles at the blowback combined tournaments receive when they do not offer equal pay.
"That is the only reason why we do not want them is because it is always going to come one way or another that we are the bad guys," Stakhovsky said. "This way, we have our own venue, they have their own venue. I think that women deserve to be paid more. I am not saying they deserve to be paid less. But this has nothing to do with paying us."
"We have been through a lot of talks with the Grand Slams in the past three years, and the increases have been significant and we are very grateful," Stakhovsky added. "But every time we came to the table, and every time there was a number we asked for, we got half of it. And we know why."
The top-ranked Djokovic was criticized at Indian Wells for saying men "should get awarded more" because "the stats are showing that we have much more spectators."
Some ATP players, most notably Andy Murray, have been outspoken advocates for equal pay for women. However, US player Madison Keys said that many of the male players she knows "freak out and make it seem like every single week we get the same — which is not true."
"I feel like it is one of those conversations: When you are friends with someone, you do not talk about politics; when you are friends with someone, you do not talk about equal prize money in tennis," she said.
Venus Williams, who led the push for equal prize money at Wimbledon, among other advocacy for the women's game, expressed disappointment at the continued resistance to equal pay from her male colleagues.
"I do not think a lot of the women really understood how some of the guys feel," Williams said. "From all accounts, maybe they feel like they have had something taken away from them. I do not know if I am understanding what they are saying correctly, but that is not the case."
Nicole Gibbs, a two-time NCAA champion who majored in economics at Stanford University, has been among the most outspoken defenders of equal pay, despite contending that such debates are "a little bit tired."
Unlike Djokovic and Stakhovsky, Gibbs said metrics like attendance for men's and women's matches should not factor into decisions on compensation.
"I think the point is giving a nod to equality, showing that we are going to be on the forefront of progress, rather than on the back end," she said. "It is about setting a precedent that if you have a daughter and a son, you do not have to sit your daughter down and say, 'You deserve three-fourths or a half of what a man has.' I think that is a really important narrative that we really want to be on the correct side of in tennis."
Comments will be moderated. Keep comments relevant to the article. Remarks containing abusive and obscene language, personal attacks of any kind or promotion will be removed and the user banned. Final decision will be at the discretion of the Taipei Times.