Taylor retires from cricket at 26 with heart condition
RARE DISEASE: The English batsman, who plays county cricket for Nottinghamshire, was being tested for a viral illness when it was discovered he had cardiomyopathy
England cricket star James Taylor on Tuesday retired at the age of 26 after he was diagnosed with a serious heart condition.
In December last year and January, Taylor was a part of the England team that won a Test series in South Africa, scoring a 70 and 42 in the first match. He was expected to be an important part of the team in this summer's games against Sri Lanka and Pakistan.
Now he is to stop playing at any level.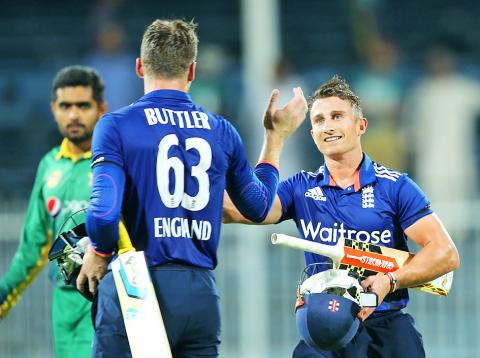 England's James Taylor, right, and Jose Buttler shake hands after their third one-day international against Pakistan at the Sharjah Cricket Stadium in Sharjah, United Arab Emirates, on Nov. 17 last year.
Photo: AP
"Safe to say this has been the toughest week of my life!" he said in a post on Twitter. "My world is upside down. But I'm here to stay and I'm battling on!"
As he was being tested for a suspected viral illness, Taylor was found to have a rare heart condition known as arrhythmogenic right ventricular cardiomyopathy.
Nottinghamshire, Taylor's club team, likened his condition to the one that afflicted Fabrice Muamba, a soccer player for Bolton who collapsed on the field in 2012. Muamba's heart stopped for more than an hour after collapsing. He recovered, but ceased playing competitively.
"Having life is a great option," Muamba wrote in response to Taylor's post on Tuesday. "Retirement is inevitable, but for some of us it's just earlier than expected. Enjoy life."
Taylor was noted for being short in stature for a top cricketer. When he was selected for the England Test team for the first time, in 2012, the team's outspoken star, Kevin Pietersen, was dubious, as he recounted in his autobiography.
"I didn't think James Taylor should be playing for England," he wrote. "I have nothing against James, but at 5 foot 6 inches, he's one of the shortest men currently playing county cricket. His dad was a jockey and James is built for the same gig."
However, Taylor ultimately quieted his doubters. He averaged a score of 26 in his seven Test matches and also played 27 of the shorter one-day internationals, averaging 42.
Cardiomyopathy can lead to sudden cardiac death after vigorous exercise, and people with the condition are usually urged to stop competitive athletics and to take care when exercising.
After college basketball player Hank Gathers died on court in 1990, an autopsy found he had cardiomyopathy.
Comments will be moderated. Keep comments relevant to the article. Remarks containing abusive and obscene language, personal attacks of any kind or promotion will be removed and the user banned. Final decision will be at the discretion of the Taipei Times.