McGregor gets Diaz rematch at UFC 200
Flamboyant Irish featherweight Conor McGregor is to get another chance to prove himself as a welterweight after being granted a rematch with Nate Diaz on the UFC 200 card in Las Vegas on July 9.
American Diaz (19-10) handed McGregor his first loss in the Ultimate Fighting Championship (UFC) earlier this month when he chocked the featherweight champion into submission at UFC 196.
UFC boss Dana White posted a picture on Twitter of the two men above the caption "200" on Wednesday.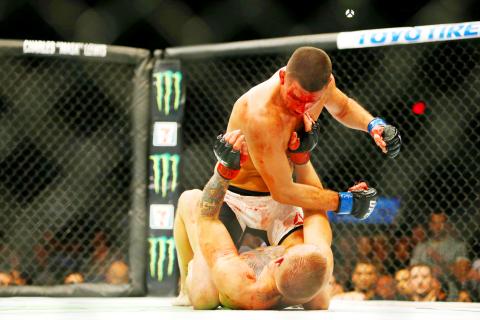 Nate Diaz of the US, top, punches Conor McGregor of the Republic of Ireland in their UFC 196 fight at the MGM Grand Garden Arena in Las Vegas on March 5.
Photo: AFP
White later told ESPN SportsCenter he and UFC co-owner Lorenzo Fertitta had encouraged McGregor (19-3) not to fight at 170 pounds (77.11kg), 25 more than the trash-talking 27-year-old's usual featherweight limit.
"He was obsessed — obsessed with fighting Nate Diaz again," White said.
"Obviously, Lorenzo and I tried to argue with him and said: 'Let's go back to 145 and defend your title. Or, if you really want the Diaz fight that bad, do it at 155.' He wants the fight at 170," White added.
"Even his coach tried to get him to get off the rematch and off the 170-pound fight," White said.
McGregor hurt Diaz early in their first bout in Las Vegas, but could not capitalize and the bigger man landed some punishing blows himself before his jiu-jitsu talents won him the fight.
White said Jose Aldo and Frankie Edgar would also square off on the UFC 200 card, with the winner then taking on McGregor for the featherweight belt regardless of the Irishman's result against Diaz.
Comments will be moderated. Keep comments relevant to the article. Remarks containing abusive and obscene language, personal attacks of any kind or promotion will be removed and the user banned. Final decision will be at the discretion of the Taipei Times.