Canada lose championship opener
Hilary Knight had two goals and Brianna Decker scored the winner to help the US begin their title defense at the Women's World Hockey Championship with a 3-1 victory over Canada on Monday night.
Knight's even-strength goal tied it 1-1 with 10 minutes, 2 seconds to play, and Decker scored a power-play goal about 4 minutes later. Knight added an empty-netter with 20 seconds left.
Laura Fortino scored for Canada 14 seconds into the third period.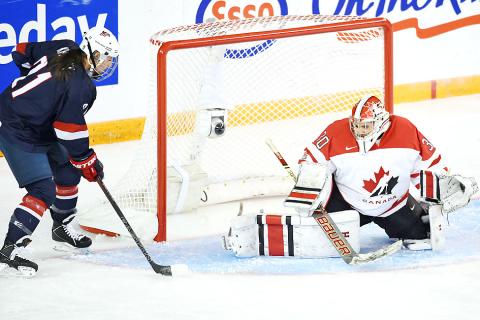 Canada's Emerance Maschmeyer, right, saves a shot against the US' Hilary Knight in their Women's World Hockey Championship game at the Sandman Centre in Kamloops, British Columbia, on Monday.
Photo: AP
Alex Rigsby stopped 22 shots for the US, and Canada's Emerance Maschmeyer had 36 saves.
In other preliminary-round games, Finland beat Russia 5-3, Switzerland beat Japan 4-2 and Sweden beat the Czech Republic 3-2.
Both the US and Canada went with their younger, less experienced goaltenders in the opener.
Maschmeyer, 21, was given the nod over Charline Labonte for her third career start against the US. Rigsby, 24, started for the US ahead of Jessie Vetter.
Decker banged in a rebound from the high slot after Maschmeyer's initial save on Monique Lamoureux's blast from the point.
Knight pulled the US even with a wrist shot that deflected off Canada defenseman Halli Krzyzaniak's stick and beat Maschmeyer low glove side.
After two scoreless periods and with the US holding a 24-13 edge in shots, Fortino beat Rigsby high stick side from the high slot in front of a full house at the 5,400-seat Sandman Centre.
The US power play was 44 percent successful at last year's championship in Malmo, Sweden, where they scored three power-play goals in the final on their way to a 7-5 win over Canada.
Canada had a pair of key penalty kills on Monday before giving up the winner during the third period.
Canada stopped the US on a two-man advantage early in the first period. Overlapping penalties to start the second period had Canada short-handed for almost four minutes.
The hosts generated the bulk of their scoring chances in the middle of the opening period. Momentum swung to the US in the final minutes, though, and the visitors headed to the dressing room up 12-6 on shots on goal.
Comments will be moderated. Keep comments relevant to the article. Remarks containing abusive and obscene language, personal attacks of any kind or promotion will be removed and the user banned. Final decision will be at the discretion of the Taipei Times.