Jeremy Lin leads Hornets rally in victory over Spurs
OVERPOWERED: Cleveland's LeBron James managed his 41st career triple-double as the Cavaliers clinched their second straight division title by beating Denver
Jeremy Lin scored 15 of his 29 points in the fourth quarter as Charlotte overcame a 23-point deficit to snap San Antonio's six-game winning streak, winning 91-88.
Lin was 11 of 18 from the field and hit all four of his three-point attempts, including three in the fourth quarter.
Courtney Lee had 17 points, Nicolas Batum added 15 and Cody Zeller grabbed 14 rebounds for the Hornets, who bounced back from a disappointing loss to the Denver Nuggets on Saturday night.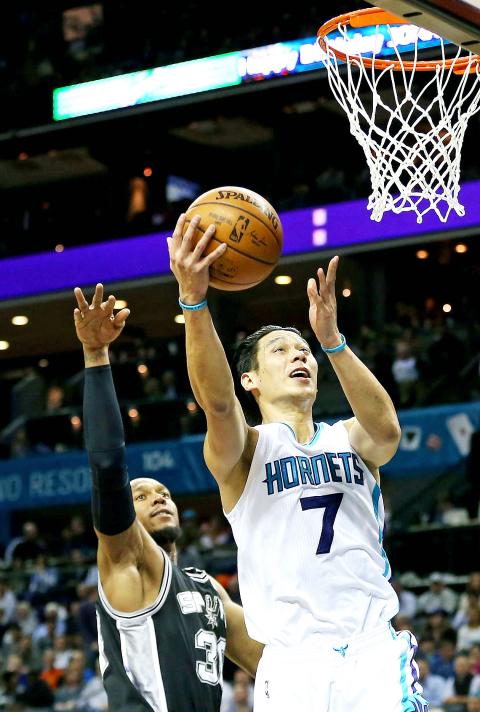 The Charlotte Hornets' Jeremy Lin, right, drives to the basket past the San Antonio Spurs' David West in their NBA game at Time Warner Cable Arena in Charlotte, North Carolina, on Monday. Photo: AFP
Photo: AFP
Tony Parker had 19 points for the Spurs, while LaMarcus Aldridge added 18 points and 12 rebounds. Tim Duncan had 16 points and 10 rebounds.
CAVALIERS 124, NUGGETS 91
In Cleveland, Ohio, LeBron James scored 33 points and had his 41st career triple-double as Cleveland clinched their second straight Central Division title with a comfortable victory over Denver.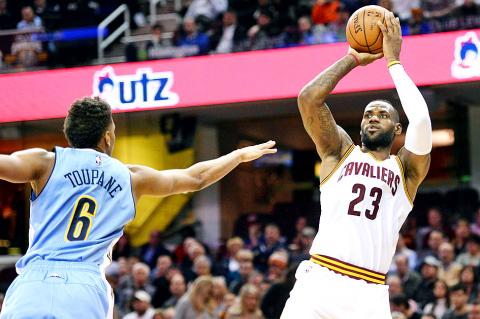 The Cleveland Cavaliers' LeBron James, right, shoots over the Denver Nuggets' Axel Toupane in their NBA game in Cleveland, Ohio, on Monday.
Photo: Ken Blaze-USA TODAY
James added 11 rebounds and 11 assists before checking out with 6 minutes, 2 seconds left to a thunderous ovation. He scored 17 in the first quarter, helping the Cavs build a 19-point lead and erase the memory of an embarrassing loss on Saturday in Miami.
The Nuggets fought back and briefly led before the Cavs regrouped and scored 68 after halftime to notch their 50th win.
J.R. Smith added 15 points and Channing Frye 14 for Cleveland, who played without starter Kevin Love (illness).
Will Barton scored 27 for the Nuggets, who concluded a 1-4 road trip. Denver's Kenneth Faried missed his third straight game with a sore lower back.
PISTONS 92, BUCKS 91
In Auburn Hills, Michigan, Andre Drummond's tip-in with 2 seconds remaining lifted Detroit over Milwaukee.
The Pistons, who are in a tight race for the final playoff spot in the Eastern Conference, came out inexplicably flat and trailed by 17 points in the first half. They were down 13 in the third quarter before chipping away at Milwaukee's lead in the fourth.
Drummond was outplayed badly early on by Greg Monroe, but when Kentavious Caldwell-Pope missed from the perimeter in the final seconds, Drummond was able to tip the ball in. The Bucks were not able to get a clean shot off after that.
Khris Middleton led Milwaukee with 27 points, and Giannis Antetokounmpo added 21.
WARRIORS 109, TIMBERWOLVES 104
In Minneapolis, Minnesota, Draymond Green had 24 points, nine rebounds and six assists to help Golden State narrowly avoid their first two-game skid in nearly a year with a victory over Minnesota.
Klay Thompson scored 17 points and hit all five of his three-pointers, and the Warriors (63-7) overcame a second straight poor shooting night from Stephen Curry. The reigning Most Valuable Player missed 11 of his 17 shots, including seven of his nine three-pointers, but still had 19 points, 11 assists and seven rebounds.
Karl-Anthony Towns had 24 points and 11 rebounds, while Ricky Rubio added 20 points, 11 assists and four rebounds for the Timberwolves (22-48), who gave the defending champs all they could handle.
BULLS 109, KINGS 102
In Chicago, Derrick Rose and Taj Gibson had 18 points each, Doug McDermott added 16 and Pau Gasol had 14 points and 14 rebounds to lead the Chicago Bulls to a 109-102 comeback victory over the Sacramento Kings on Monday night.
Rose was nine for 15 from the field and hit a couple of 15-foot jumpers during Chicago's decisive 10-0 run in the fourth quarter to rally from a five-point deficit.
Gasol recorded his 39th double-double of the season in his first game back after missing four games with a swollen right knee.
DeMarcus Cousins had 19 points and 18 rebounds, Darren Collison had 19 points and Rudy Gay had 18 for Sacramento.
In other results, it was:
‧ Wizards 112, Hawks 102
‧ Pacers 91, 76ers 75
‧ Grizzlies 103, Suns 97
‧ Celtics 107, Magic 96
Comments will be moderated. Keep comments relevant to the article. Remarks containing abusive and obscene language, personal attacks of any kind or promotion will be removed and the user banned. Final decision will be at the discretion of the Taipei Times.