Women's snooker ace seeking biggest stage
Women's world champion Ng On Yee grew up beating the boys in the smoke-filled snooker halls of Hong Kong — now she is challenging for a spot among the men's elite on the sport's biggest stage.
The bespectacled Ng is training hard after earning a dream ticket to the qualifying tournament for next month's men's world championships in Sheffield, England.
Ng, resplendent in her bow-tie and waistcoat, is hoping to become the first woman to reach the main draw by going one better than England's Reanne Evans, who lost in qualifying last year.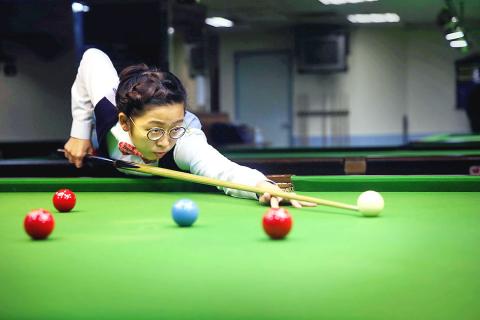 Women's snooker world champion Ng On Yee plays a shot at a snooker hall in Hong Kong on Jan. 27.
Photo: AFP
Ng shocked Evans in the semi-finals of last year's women's world championships, on her way to taking the title and gaining her invite to Sheffield.
Now she hopes to stake her place among snooker's top stars, including reigning world champion Stuart Bingham and the colorful Ronnie "The Rocket" O'Sullivan.
"Playing at the top level, that is a dream come true for me," she told reporters in an interview, adding that her goal is to become one of the world's best players, male or female.
"I wish I could be and I'm now setting the target step-by-step in getting there," she said.
Ng is coached by Wayne Griffiths, son of Welsh great Terry Griffiths who won the world title at Sheffield's famous Crucible Theatre in 1979, beating Dennis Taylor in the final.
She spent her early years running around the snooker hall her parents managed in the working-class Hong Kong district of Sham Shui Po, stacked with high-rise buildings and known for its bustling street market.
Hong Kong's dimly lit snooker venues, hidden away from the hustle-bustle of daily life, are often cast as haunts for shady characters and female players are a rarity.
However, Ng always felt at home there and she was finally inspired to start playing aged 13, after being wowed by her father, an amateur player.
She said she remembers being entranced by his snazzy snooker attire, complete with dress shirt, black waistcoat and bow-tie.
"One day I saw him at a competition with this uniform and I loved the uniform very much, and I thought I could be special if I wore the same thing," Ng said. "I requested my father to teach me how to play and he was delighted."
From then on, snooker became a big part of Ng's life and she would spend five to six hours practicing every day.
In one exercise, she had to move the cue hundreds of times through a small ring placed on the table to perfect her stroke.
Not many girls frequent Hong Kong's snooker halls, but her fellow players were supportive as she cut her teeth in local contests against male competitors, Ng said.
"There would be some other men or boys watching me play, but they didn't laugh at me... they just encouraged me," she said.
It was at her first international tournament, the 2006 women's world championships in Jordan, that Ng was inspired to take snooker even further.
"I wished I could be like them, who can travel around the world for snooker tournaments," she said.
Fast forward 10 years and Ng has given up her studies to play full-time — with impressive results.
Ng is to break new ground as the first Asian woman to tackle qualifying at the men's world championships, as she bids to become the only female player to reach the main draw.
"It would be an awesome opportunity to learn more as I wonder what really creates a gap between the man and the ladies," said Ng of her upcoming trip.
However, "to reach the pinnacle of the men's game is still a massive step," Griffiths said.
"If she can qualify for the men's tour and remain there for at least two years, then anything could be possible," he said.
Ng, who is also to defend her women's world title in Britain this month, is aiming to reach the heights of snooker, but is patient about getting there.
"I still have a long way to go," she said. "For me I just play snooker because I love it and enjoy the game."
Comments will be moderated. Keep comments relevant to the article. Remarks containing abusive and obscene language, personal attacks of any kind or promotion will be removed and the user banned. Final decision will be at the discretion of the Taipei Times.