Rugby's 'fastest man' eyes place on track team
Rugby Union player Carlin Isles has launched an ambitious bid to represent the US in two different sports at a single Olympic Games after resurrecting his sprinting career.
Isles — popularly known as the fastest man in rugby — took up the seven-a-side version of the sport in 2012 after failing to make the US Olympic team for the London Games.
The 26-year-old US international winger's personal best for the 100m — a wind-assisted 10.12 seconds — would have been good enough for a semi-final place in the London Olympics four years ago. Now Isles, who is virtually certain to be selected for the US Sevens squad for Rio de Janeiro as rugby returns to the Olympics for the first time since 1924, is hoping to win a place in the US track and field contingent as well.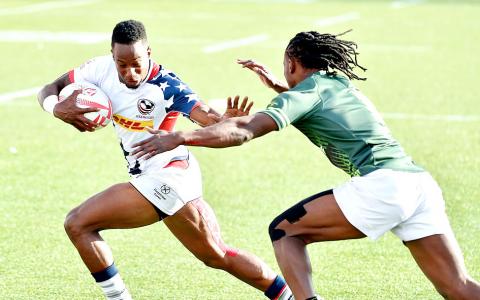 US player Carlin Isles, left, tries to evade a tackle during their game against South Africa at the Las Vegas leg of the World Sevens Series on Sunday.
Photo: AFP
Isles told reporters at the US Olympic team media summit on Monday that he would race the 60m at the US National Indoor championships in Portland, Oregon, this weekend as part of a bid to relaunch his sprinting career, skipping the Vancouver leg of the World Rugby Sevens series, which clashes with the meet.
"I'm trying to do track and field and rugby at the Olympics," Isles said. "I'm doing indoor at the Nationals. I'm supposed to go to Vancouver, but my coach is letting me go, so I'm going to the Nationals. I'm hoping to do the 100m in Rio."
The chances of Isles forcing his way into the US athletics team for Rio appear remote, with the leading American contenders for 100m places all clocking personal bests considerably faster than the winger's best times.
However Isles believes that added bulk acquired during his conversion to rugby could give him an explosiveness capable of taking him under the 10-second barrier.
"I've got a lot bigger than what I was in track and field before," Isles said. "I'm hoping to go sub-10. It's all about changing the energy systems and peaking at the right time. It's possible because I know a lot of areas that I'm weak in. I'm sure I can cut off a couple of tenths of a second."
Isles said he was persuaded to take another crack at sprinting after gauging his pace on the rugby field.
"I'm still fast. Rugby's helped me a lot to keep in shape. I feel like I can go faster. I'm always seeking to go deeper into my talent. I feel like I can push myself further and go faster," he said.
Isles would join an elite band of athletes to compete in two different sports at a single Olympic Games. However he can take encouragement from compatriot Morris Kirksey, a member of the US rugby team who won the gold medal at the 1920 Olympics. At the same games in Antwerp, Belgium, Kirksey also won a gold medal as a member of the 4x100m relay team, while also claiming a silver medal in the 100m behind Charlie Paddock.
Comments will be moderated. Keep comments relevant to the article. Remarks containing abusive and obscene language, personal attacks of any kind or promotion will be removed and the user banned. Final decision will be at the discretion of the Taipei Times.