Tomic critical of Kyrgios after loss
STUNNING SETBACK: Kazakhstan took a surprise lead over Serbia after Novak Djokovic and Nenad Zimonjic lost to Andrey Golubev and Aleksandr Nedovyesov
Australia's two leading stars Bernard Tomic and Nick Kyrgios are at odds, forcing new captain Lleyton Hewitt into a peacemaking role after an extraordinary postscript to Australia's Davis Cup loss to the US yesterday.
Tomic challenged the commitment of Kyrgios to the Davis Cup competition after his teammate's withdrawal from the Kooyong tie with illness and back trouble.
John Isner was too strong for Tomic, winning 6-4, 6-4, 5-7, 7-6 (7/4) to give the US the tie 3-1 and reach the competition's quarter-finals.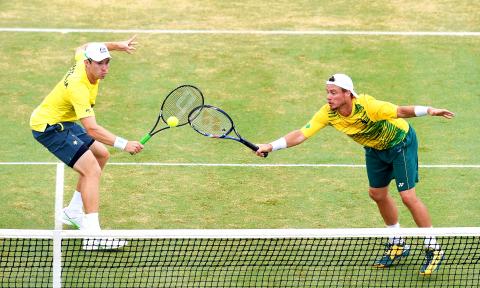 Australia's John Peers, left, and Lleyton Hewitt reach for the ball in their Davis Cup World Group first-round doubles match against the US' Mike Bryan and Bob Bryan at the Kooyong Lawn Tennis Club in Melbourne, Australia, on Saturday.
Photo: EPA
However, there was controversy during the match when Tomic was overheard during a changeover questioning Kyrgios' absence from the tie.
While in conversation with team captain Hewitt, TV microphones caught Tomic saying: "Nick's sitting down in Canberra. Bullshit he's sick."
Tomic was also heard saying "that's twice he's done it," in possible reference to Kyrgios's withdrawal from the tie against the Czech Republic last year.
Tomic later did not resile from his comments and questioned the legitimacy of the virus that ruled out Kyrgios if he was competing as planned in a US tournament this week.
Tomic said he spoke to his teammate after his loss and Kyrgios told him he was planning to play in Indian Wells, California, this week.
Australia's top-ranked player recalled that a similar situation occurred a year ago when Kyrgios withdrew from the Davis Cup against the Czech Republic.
"He didn't come to Czech and had stress fractures and somehow played Indian Wells and felt good," Tomic said at the post-match news conference. "Now it's going to be funny for me to see whether he plays."
"If he plays Indian Wells, then he's definitely lost a little bit of my respect," Tomic added.
Tomic said it was disappointing not to have Kyrgios playing in this weekend's David Cup tie.
"He's an amazing player and it would have been important to have him here," he said.
Hewitt, who came out of retirement for Saturday's five-set doubles loss to the crack Bryan brothers in Kyrgios' absence, said he did not share Tomic's sentiments.
The captain said they were "in the heat of the moment, and frustration," but Tomic continued to question Kyrgios at the media conference.
"For me, we ruled Nick out," Hewitt said. "He came down here, he gave everything he had to try and put his hand up to be available, there's no doubt he was sick, absolutely no doubt."
"We did a fitness test with him on Thursday morning before we had to make any decision about changing names before the draw, and he was ruled out by the medical staff," Hewitt said. "I had to sit down and try and come up with the best possible plan without using Nick then."
"Bernie's come here and Bernie wasn't 100 percent and he hasn't been for the last few weeks and he came out and gave absolutely 100 percent in his matches here and did exactly what I asked him to do," Hewitt added.
"For me, though, I asked Nick to come down here and be prepared to give it a shot and he did that as well, and then he got ruled out by the medical staff, so for me both boys did exactly what I asked them to do," he said.
Elsewhere, a Novak Djokovic-led Serbia surprisingly fell behind 2-1 at home to Kazakhstan after he lost in doubles on Saturday.
Meanwhile, Italy and France were first through to the quarter-finals after beating weakened visitors Switzerland and Canada respectively.
Djokovic and Nenad Zimonjic fell to Andrey Golubev and Aleksandr Nedovyesov 6-3, 7-6 (7/3), 7-5 before a full house in Belgrade. It was the second notable cup win for Golubev and Nedovyesov, who beat Roger Federer and Stan Wawrinka in doubles in 2014.
For Serbia not to lose a third time at home in four ties, Djokovic must beat Mikhail Kukushkin in the first reverse singles scheduled for yesterday, then hope 23rd-ranked Viktor Troicki, who lost to Kukushkin on Friday, beats 200th-ranked Nedovyesov in the last rubber.
Djokovic won his only previous match against Kukushkin in three sets in Shanghai in 2014.
Andy Murray won his second point for Britain when he and brother Jamie won in straight sets to lead Japan 2-1, giving Murray a chance to clinch the tie against Kei Nishikori in their match yesterday. Murray leads their head-to-heads 5-1, but Nishikori won their only indoor match.
Also, the Czech Republic led Germany 2-1 in Hannover, Croatia led last year's finalists Belgium 2-1 in Liege and Argentina led Poland 2-1 in Gdansk.
Italy took nearly eight hours to win the opening singles on Friday in Pesaro, so captain Corrado Barazzutti decided to give his best pair a chance to clinch the tie instead of giving a debut to Marco Cecchinato.
Simone Bolelli and Andreas Seppi, who won the Dubai title last week, beat tired singles players Marco Chiudinelli and Henri Laaksonen 6-3, 6-1, 6-3 in less than two hours on the indoor clay court to help Italy reach their third quarter-final in four years. With an unbeatable 3-0 lead, they await Argentina or Poland.
The Swiss were without Federer and Wawrinka.
France paired unused singles players Jo-Wilfried Tsonga and Richard Gasquet for a third time in the cup to seal victory against Vasek Pospisil and Philip Bester 7-6 (7/4), 6-1, 7-6 (7/4) in Guadeloupe.
The Murrays finished with an ace to beat Yoshihito Nishioka and Yasutaka Uchiyama of Japan 6-3, 6-2, 6-4 in Birmingham. They did not face a break point.
"Hopefully, I can play another good one tomorrow and seal the win," Andy Murray said of his singles against Nishikori.
Tomas Berdych and Radek Stepanek, who have won two Davis Cups together, defeated Philipp Kohlschreiber and Philipp Petzschner 7-6 (9/7), 7-5, 6-4 for the Czech Republic to lead Germany 2-1.
Berdych would be confident of clinching yesterday's tie against Kohlschreiber, as he has an 8-1 record against Germany's best player.
Croatia were on the brink of dumping out Belgium after Ivan Dodig and Franko Skugor defeated Ruben Bemelmans and David Goffin 7-6 (7/5), 6-3, 6-1.
Former US Open champion Marin Cilic, who won his singles on Friday, was yesterday looking to advance Croatia to the quarter-finals with a win over Goffin, who was to play for a third straight day.
Poland, making their debut in the World Group, prevented Argentina from winning their tie when Lukasz Kubot and Marcin Matkowski beat Carlos Berlocq and Renzo Olivo 6-3, 6-4, 6-4. Argentina, still leading 2-1 after winning both singles in straight sets, were yesterday heavily favored to clinch and reach the quarter-finals for the 14th time in 15 years.
Comments will be moderated. Keep comments relevant to the article. Remarks containing abusive and obscene language, personal attacks of any kind or promotion will be removed and the user banned. Final decision will be at the discretion of the Taipei Times.