Malkin hat-trick rallies Penguins
Evgeni Malkin scored a hat-trick to help the Pittsburgh Penguins rally past the Vancouver Canucks for a 5-4 victory on Saturday.
It was the 10th hat-trick of his career and first since Feb. 25, 2012. Malkin, who leads the team with 23 goals and 47 points, has 19 points in his past 15 games.
Sidney Crosby had a point in a season-best sixth straight game when he scored an empty-net goal. It was his 16th of the season and proved to be the game winner. Bryan Rust scored his second of the season for the Penguins, who rallied from a 2-0 deficit for the second time in as many games.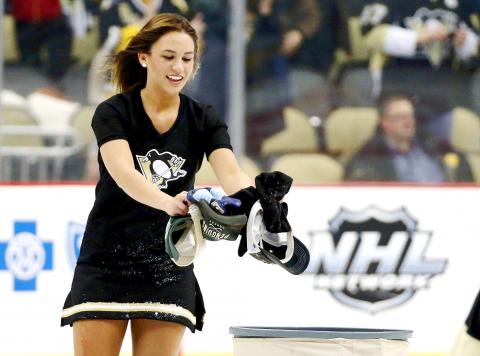 A member of the ice crew collects hats thrown onto the ice after Pittsburgh Penguins center Evgeni Malkin, not shown, scored a hat-trick against the Vancouver Canucks at the CONSOL Energy Center in Pittsburgh, Pennsylvania, on Saturday.
Photo: Charles LeClaire-USA TODAY
Pittsburgh, who scored three third-period goals in a 5 minute, 44 second stretch, trailed by two goals in seven of their previous 11 games and came back to earn points in six of those.
The Penguins (23-17-7), riding a seven-game home point streak, have won six of their past eight against the Canucks (20-18-11). They are 8-3-4 after losing their first four games under new coach Mike Sullivan, who was an assistant with the Canucks in 2013-2014.
Vancouver's Jannik Hansen also netted a hat-trick, the second of his career, and moved to 16 goals.
Bo Horvat scored his ninth for the Canucks, who had a chance to finish their six-game road trip with four wins and nine of 12 possible points.
Marc-Andre Fleury stopped 27 shots for his sixth straight decision against the Canucks. Ryan Miller made 25 saves for Vancouver.
Horvat put Vancouver ahead 3-1 six minutes into the third period, beating Fleury high to the glove side with a sharp wrist shot from between the circles.
Malkin tied it on a pair of goals scored 3 minutes, 6 seconds apart.
His second goal came on a fluky bounce as he centered the puck, but Vancouver's Linden Vey knocked it into his own net. Malkin completed his hat-trick with a wrist shot.
Rust put Pittsburgh in front 4-3 when he threw a shot on goal from that point that rolled past a screened Miller. Crosby scored an empty-net goal and Hansen pulled the Canucks within a goal in the final minute.
The Flyers-Islanders game was postponed due to weather.
In other games, it was:
‧ Panthers 5, Lightning 2
‧ Avalanche 3, Stars 1
‧ Sharks 4, Wild 3
‧ Ducks 4, Red Wings 3
‧ Bruins 3, Blue Jackets 2, SO
‧ Canadiens 3, Maple Leafs 2, SO
‧ Devils 3, Jets 1
‧ Coyotes 3, Kings 2
‧ Predators 4, Oilers 1
Comments will be moderated. Keep comments relevant to the article. Remarks containing abusive and obscene language, personal attacks of any kind or promotion will be removed and the user banned. Final decision will be at the discretion of the Taipei Times.