Jones backs 'God Save the Queen' in anthem debate
The England rugby union team's first foreign coach on Wednesday said he had no problems with his players singing God Save the Queen, rather than a specifically English anthem.
England sports teams currently sing God Save the Queen, which is the anthem for the United Kingdom of Great Britain (England, Wales and Scotland) and Northern Ireland.
However, British Member of Parliament (MP) Toby Perkins from the opposition Labour party wants England to have its own sporting anthem, in line with Wales and Scotland, and put his case forward on the floor of the British House of Commons.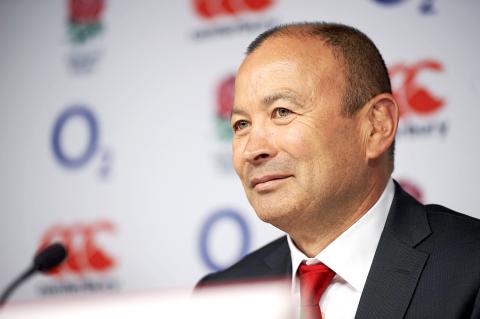 England rugby union head coach Eddie Jones addresses members of the media at a press conference to announce the elite player squad at Twickenham Stadium in London on Wednesday.
Photo: AFP
"It has often seemed incongruous to me that when England has played against other home nations on the football or rugby field that, while the Welsh or Scots sing an anthem that reflects their nation's identity, England should sing about Britain," Perkins said.
When the question was put to Australian Eddie Jones, the new coach of the England rugby team, as he unveiled his first squad at Twickenham on Wednesday, he replied with a grin: "I've been learning the words, so I hope they don't change it."
The hymn Jerusalem, derived from a poem by William Blake published in 1808, which is sung before some England home cricket matches, has been suggested as an alternative to God Save the Queen.
Other options could include Land of Hope and Glory and There'll Always Be an England.
Welsh sports teams sing the Welsh-language hymn Hen Wlad Fy Nhadau ("Land
of My Fathers"), while Scottish teams sing Flower of Scotland.
Conservative British MP Jacob Rees-Mogg spoke against Perkins's proposal, citing "deep and serious reasons."
"What greater pleasure can there be for a trueborn English man or trueborn English woman to listen to our own national anthem, a national anthem for our whole country, for our whole United Kingdom of which England is but a part, but an important part?" he said.
He added that individual national anthems in the UK were a "disuniting factor in our country."
Perkins's English National Anthem Bill was nonetheless adopted by the House unopposed and will be debated again in March, but without support from the Conservative government, it is unlikely to become law.
British Prime Minister David Cameron's spokeswoman said: "He is happy for there to be a debate. "What matters the most, with an anthem, is that you sing it with pride. The most important thing, he thinks, is that people get behind their anthems."
Comments will be moderated. Keep comments relevant to the article. Remarks containing abusive and obscene language, personal attacks of any kind or promotion will be removed and the user banned. Final decision will be at the discretion of the Taipei Times.