Peterhansel wins vital 10th stage to lead Dakar Rally
Stephane Peterhansel, the most successful pilot in Dakar Rally history, gained decisive control of the race when he flew through the Fiambala dunes and mainly avoided the problems his rivals suffered on Wednesday.
A 12th championship, a sixth in a car, was on the cards for Peterhansel this weekend after winning the 10th stage on soft sand and grabbing a lead of an hour on his nearest rival, defending champion Nasser al-Attiyah.
The Frenchman could yet lose his lead in an appeal hearing. Peterhansel survived a complaint by Mini that he refueled in an unauthorized area on Monday, but Mini filed an appeal on Wednesday to motorsport governing body FIA, which will be heard before the end of the race. Peterhansel could be penalized six hours or disqualified.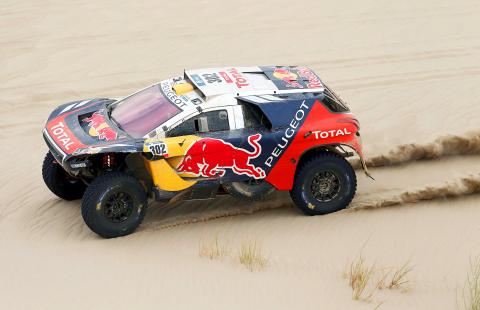 French Stephane Peterhansel and Jean Paul Cottret of Peugeot race on their way to winning the 10th stage of the Dakar Rally, between Belen and La Rioja, Argentina, on Wednesday.
Photo: EPA
He began the day second overall, and panicked outside Belen when he lost time looking for the first waypoint en route to La Rioja, then got a flat tire. That made him push his Peugeot harder.
"We took risks and threw caution to the wind," he said. "We pushed very hard because we knew today was the decisive stage. It was a stage with very tricky navigation, off-track sections, drainage channels ... everything that makes rally raid hard."
What he did not know was his rivals were faring even worse.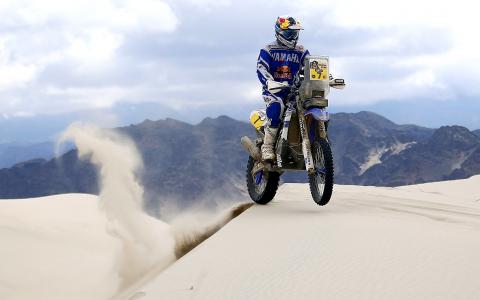 Portuguese Helder Rodrigues of Yamaha during the 10th stage of the Dakar Rally, between Belen and La Rioja, Argentina, on Wednesday.
Photo: EPA
Carlos Sainz, who grabbed the overall lead on Tuesday, two minutes up on Peterhansel, could not find the first waypoint, punctured, got stuck in the sand, then stopped 30km from the finish after a strut broke under his engine. He had to wait hours for assistance, bringing an end to the 2010 champion's hope of a second title.
Al-Attiyah rolled his Mini soon after the start and broke his ceiling and cooling system. Not prepared to take more risks, the Qatari finished 14th and more than 50 minutes down in the stage, but managed to rise to second overall.
Giniel de Villiers of South Africa finished sixth in the 245km stage, which was shortened by 30km because of a rio swollen by overnight thunderstorms, and climbed to third overall, 72 minutes behind.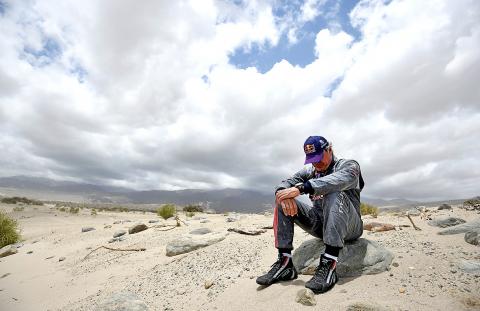 Peugeot driver Carlos Sainz of Spain reacts after a mechanical failure during Stage 10 of the Dakar Rally between Belen and La Rioja, Argentina, on Wednesday.
Photo: AFP
Sebastien Loeb, the nine-time world rally champ, endured a car roll, getting stuck in the sand, and two punctures, and still managed to finish fifth in the stage to rise into the top 10.
In the motorbikes, Toby Price of Australia, the leader since Monday, rode cautiously to avoid mistakes after his KTM took a thrashing on Tuesday. He finished six minutes behind stage winner Stefan Svitko of Slovakia, but still led the latter by 23 minutes overall.
Comments will be moderated. Keep comments relevant to the article. Remarks containing abusive and obscene language, personal attacks of any kind or promotion will be removed and the user banned. Final decision will be at the discretion of the Taipei Times.