FootGolf World Cup held in Argentina big success
Soccer-mad Argentina has hosted a novel tournament that featured plenty of soccer balls, but no goals as such: the second-ever FootGolf World Cup.
Instead of dribbling, tackling and sliding around getting muddy, FootGolf players boot a soccer ball large distances into a 53cm-wide hole in as few kicks as possible.
Spectators follow the players around each of the 18 holes over a course complete with flags, slopes and bunkers.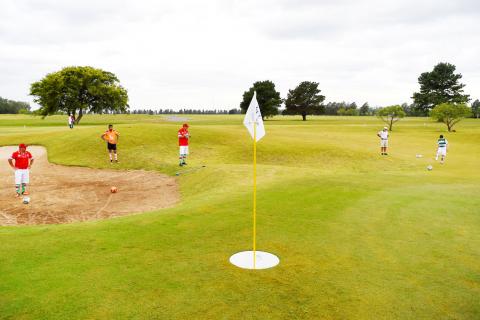 A participant from Ireland, right, kicks his ball during the FootGolf World Cup at Pilar Golf and Country Club in Argentina on Sunday.
Photo: AFP
Keeping to a golfer-like dress code, players wear harlequin-patterned socks and pristine white shorts and caps.
Said to have been invented in the Netherlands in 2009, the sport has spread worldwide.
Players from Australia, Britain, Ireland and the US joined their Argentine hosts in the tournament in Pilar, a posh suburb of Buenos Aires, that wrapped up at the weekend.
The first FootGolf World Cup was held in Hungary in 2012, with 77 players from eight nations taking part. This year, turnout multiplied, with 230 players from 26 nations.
"It far surpassed our expectations," Argentine FootGolf Association president Javier de Ancizar said. "This was the first tournament we have played with spectator stand, and they were full."
Argentine Christian Otero was crowned FootGolf World Cup champion on Sunday after topping the players' table.
"I had to win. I felt a lot of pressure and I am very happy," Otero said.
"This sport is incredible. There are not many sports that have such a lovely setting," he added, speaking near the green expanse of the upmarket Golf Pilar Club.
A good FootGolf player "has to have a strong mind, a good touch and cool-headedness, because in this game, you make a lot of mistakes and the important thing is to get back into it quickly," he said.
Comments will be moderated. Keep comments relevant to the article. Remarks containing abusive and obscene language, personal attacks of any kind or promotion will be removed and the user banned. Final decision will be at the discretion of the Taipei Times.