Messi claims fifth world player award
PUSKAS AWARD: The most beautiful goal award went to Wendell Lira of Brazil for his bicycle-kick score, which topped a poll that drew more than 1.6 million votes
Now score it Lionel Messi 5, Cristiano Ronaldo 3.
Messi won the Ballon d'Or trophy on Monday as the world's best player of last year, ending Cristiano Ronaldo's two-year hold on soccer's top individual honor.
"It's incredible that it's my fifth," said the 28-year-old Barcelona and Argentina forward, who won four straight FIFA awards from 2009 to 2012.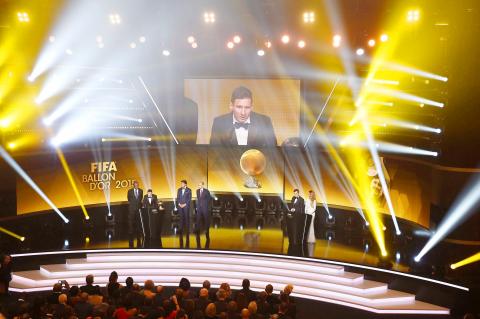 Argentina's Lionel Messi, second left, speaks after winning the FIFA men's soccer player of the year prize at the Ballon d'Or ceremony at the Kongresshaus convention center in Zurich, Switzerland, on Monday.
Photo: EPA
Messi earned his record-extending fifth after being runner-up to his great rival for the past two years.
"It's a very special moment for me to be back here on the stage after being there in the audience watching Cristiano win," Messi said in Spanish in his acceptance speech.
Five major titles for Barcelona last year — leaving none for Ronaldo's Real Madrid — brought the golden ball back into Messi's hands.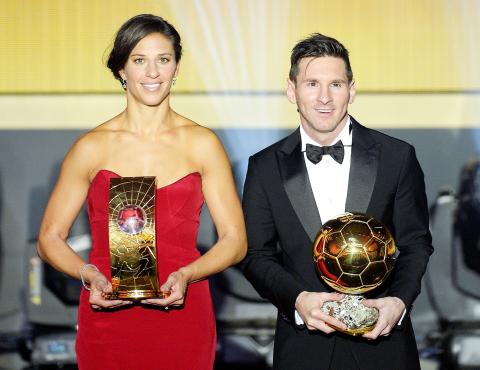 US women's national soccer team player Carli Lloyd, left, and Argentina's Lionel Messi pose with their trophies after the FIFA Ballon d'Or ceremony in Zurich, Switzerland, on Monday.
Photo: AP
It was not even close.
Messi got 41.33 percent of total voting points in a 23-candidate ballot. Ronaldo received 27.76 percent and third-placed Neymar, Messi's Barcelona teammate from Brazil, got 7.86 percent. Voting was by national team captains and coaches, plus invited journalists, from FIFA member countries.
As usual, Argentina captain Messi and Portugal captain Ronaldo ignored each other on their own ballot papers. Messi voted for three Barcelona teammates and Ronaldo listed three Madrid colleagues. However, Portugal coach Fernando Santos did put Messi second to Ronaldo.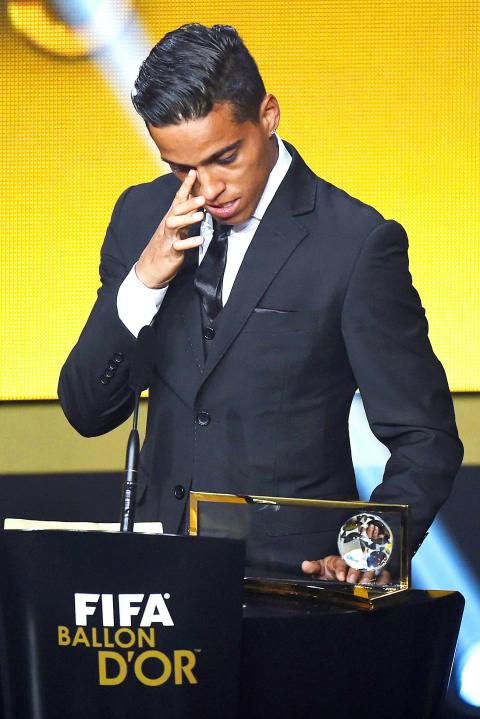 Vila Nova forward Wendell Lira reacts after receiving the FIFA Puskas Award for goal of the year, which he scored for Goianesia last year, at the FIFA Ballon d'Or ceremony in Zurich, Switzerland, on Monday.
Photo: AFP
It was a night to remember for Barcelona and the US women's team, who won the Women's World Cup last year.
Luis Enrique was named best coach after guiding Barcelona to win the Champions League, Spain's La Liga and Copa del Rey, UEFA Super Cup and Club World Cup.
The women's awards were won by US captain Carli Lloyd and coach Jill Ellis.
Lloyd stood out by scoring six World Cup goals, including a stunning hat-trick in the opening 16 minutes of a 5-2 rout of Japan in the final.
At first unable to speak with emotion, Lloyd was loudly applauded as she prepared to begin her acceptance speech.
"I honestly wouldn't be sitting up here, standing up here, without my incredible teammates," said Lloyd, who made the three-player shortlist for the first time at age 33.
Lloyd got 35.28 percent of the voting points, ahead of Germany's Celia Sasic with 12.6 percent. Third-placed Aya Miyama of Japan got 9.88 percent. Sasic also scored six goals in Canada to win the tournament Golden Boot, then retired aged just 27.
Ellis won the coaching award in women's soccer ahead of two men: Japan coach Norio Sasaki and Mark Sampson, who led England to third place at the World Cup.
English-born Ellis got the most dominating win. She scored 42.98 percent, ahead of Sasaki on 17.79 percent and Sampson's 10.68 percent.
The US last swept the women's awards after their 2012 Olympic title, when forward Abby Wambach and Swedish coach Pia Sundhage were rewarded.
Barcelona also swept the 2011 men's awards, when Messi and then-coach Pep Guardiola won following the club's previous Champions League title.
Guardiola, now coaching Bayern Munich, placed second to his former teammate on Monday, getting 22.97 percent against 31.08 percent for Luis Enrique. Neither could attend due to team commitments.
Chile coach Jorge Sampaoli placed third, on 9.47 percent, for guiding the hosts to a first Copa America title.
Messi lost out in the Puskas Award for most beautiful goal to Wendell Lira of Brazil.
Lira's bicycle-kick for Goianesia against Atletico Goianiense topped an online poll that drew more than 1.6 million votes.
The gala night allowed FIFA to forget its corruption crisis and many legal problems last year to focus on soccer highlights.
Still, FIFA withheld the Presidential Award that Sepp Blatter would traditionally pick and present. The outgoing Blatter was absent on Monday due to this eight-year ban imposed by the FIFA ethics committee last month.
Four of the five candidates competing to succeed Blatter in the Feb. 26 election attended the event: Prince Ali bin al-Hussein, Jerome Champagne, Gianni Infantino and Tokyo Sexwale. Only Sheikh Salman bin Ibrahim al-Khalifa skipped the event.
In Blatter's absence, acting FIFA president Issa Hayatou of Cameroon made the formal opening speech.
He said the election meeting in Zurich would also see the 209 member federations also vote on restructuring and modernizing the embattled soccer body.
"After these last few difficult months, we can now focus fully on the main mission that is FIFA's," Hayatou said in French, referring to developing the game worldwide.
A players' vote organized by international union FIFPro gave a World XI of: Manuel Neuer (Germany, Bayern Munich); Dani Alves (Brazil, Barcelona); Sergio Ramos (Spain, Real Madrid); Thiago Silva (Brazil, Paris Saint-Germain); Marcelo (Brazil, Real Madrid); Andres Iniesta (Spain, Barcelona); Luka Modric (Croatia, Real Madrid); Paul Pogba (France, Juventus); Messi, Neymar and Ronaldo.
FIFA dedicated its Fair Play Award to "clubs and associations helping refugees."
Comments will be moderated. Keep comments relevant to the article. Remarks containing abusive and obscene language, personal attacks of any kind or promotion will be removed and the user banned. Final decision will be at the discretion of the Taipei Times.