Aldridge spurs San Antonio to victory
GOLDEN STREAK: Despite having an off night, Warriors point guard Stephen Curry still scored 31 points as his team won their 36th consecutive regular-season match
LaMarcus Aldridge had 25 points and 11 rebounds as the San Antonio Spurs extended their winning streak to eight games with a 106-79 victory over Brooklyn on Monday in the Nets' first game since an organizational shake-up.
A day after coach Lionel Hollins was fired and general manager Billy King resigned, the Nets dropped their 10th straight at home and fifth in a row overall.
Kawhi Leonard added 17 points for the Spurs.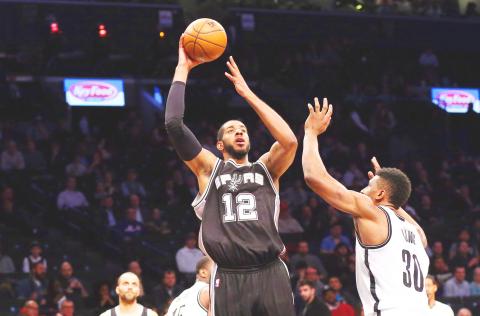 The San Antonio Spurs' LaMarcus Aldridge, center, shoots over the Brooklyn Nets' Thaddeus Young in their NBA game at the Barclays Center in Brooklyn, New York, on Monday.
Photo: Anthony Gruppuso-USA TODAY
The Spurs (33-6) were up seven at halftime before dominating the second half, just as they did in their 102-75 victory over the Nets on Oct. 30. Those are two of their 14 wins by 20 or more points this season.
Brook Lopez scored 18 points and Joe Johnson had 16 in the Nets' first game under interim coach Tony Brown. Brown moved guards Wayne Ellington and Donald Sloan into the starting lineup, but they combined for just 10 points on 4-of-12 shooting.
WARRIORS 111, HEAT 103
Stephen Curry scored 31 points, while Draymond Green added 22 points and 12 rebounds to lead the Warriors to their 36th straight regular-season home win.
Klay Thompson added 17 points to help the Warriors (36-2) get halfway to Chicago's record win total of 72 set in 1996-1997 three games before the midpoint of the season.
Dwyane Wade scored 20 points, while Chris Bosh and Gerald Green added 15 apiece for the Heat, who had won eight of their past 11 games at the venue.
However, the current Warriors team is far different and that showed against a resilient Heat team who battled all night, but were unable to handle the depth of the Warriors, despite the rare off-shooting night from Curry.
WIZARDS 114, BULLS 100
John Wall had 17 points and 10 assists to help the banged-up Wizards pull away from the Bulls.
Washington had seven players score in double figures in their second straight win after a stretch of five losses in six games. Ramon Sessions had 16 points, while Garrett Temple, Otto Porter Jr and Nene scored 14 apiece.
The Wizards led by as many as 18 points, playing without key performers Marcin Gortat, Kris Humphries and Bradley Beal. Gortat was scratched with a sore left knee, Humphries missed his fourth straight game with a sore right knee and Beal remains out due to a stress reaction in his lower right leg.
Derrick Rose scored 23 points in the first of four games in five nights for the Bulls. Jimmy Butler had 19 points and seven assists, while Pau Gasol added 15 points and 10 rebounds.
Comments will be moderated. Keep comments relevant to the article. Remarks containing abusive and obscene language, personal attacks of any kind or promotion will be removed and the user banned. Final decision will be at the discretion of the Taipei Times.