Harden leads Rockets in rally to beat Jazz 103-94
CHARGING TO VICTORY: Led by Jimmy Butler and Pau Gasol's double-doubles, the Chicago Bulls overwhelmed the Celtics for their season-high sixth consecutive win
James Harden on Thursday tallied a game-high 33 points as the Houston Rockets wrangled control in the second half by quickening the tempo to surge past the Utah Jazz 103-94 at Toyota Center.
The Rockets (18-19) scored 64 second-half points while shooting 65.7 percent from the floor to erase what was once a seven-point deficit. Houston produced 12 fast-break points following the intermission, 10 in the third quarter, to set the pace.
"I think we were playing, for the most part, pretty well defensively, offensively we were too slow," Harden said of the first half.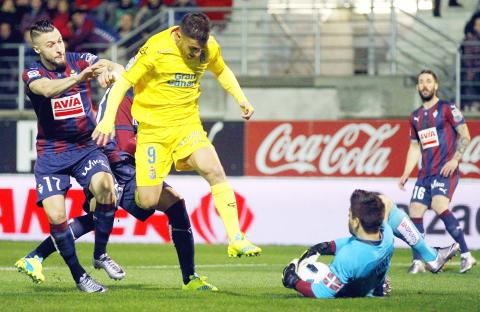 Sociedad Deportiva Eibar's Xabier Irureta, right, stops a shot by UD Las Palmas' Felix Asdrubal, second left, in their Copa del Rey match in Eibar, Spain, on Thursday.
Photo: EPA
With the Jazz (15-20) fighting to remain in contention, Harden drilled a step-back elbow jumper with 2 minutes, 46 seconds remaining before adding a driving layup with 1 minute, 51 seconds left to keep the advantage at 96-90.
He finished 13-for-25 from the floor, despite missing all seven of his three-point attempts.
Terrence Jones chipped in 14 points and eight rebounds, while Jason Terry and Marcus Thornton scored 12 points apiece off the Houston bench.
Harden added eight rebounds and two of the Rockets' 11 steals. Houston scored 16 points off 19 Utah turnovers.
Gordon Hayward paced the Jazz with 15 points, while Trevor Booker (12), Chris Johnson (11) and Trey Burke (10) scored in double figures off the bench. Utah dropped their third consecutive game and second to Houston this week.
Houston perked up when Jazz guard Rodney Hood was lost to an ankle injury with 8 minutes, 37 seconds remaining in the third quarter.
Hood paced Utah with 10 points at the point of his departure, and the Jazz led 48-46 after Harden scored a transition layup with Hood writhing on the floor in pain.
The Rockets posted 33 points in the third quarter after scoring just 39 in the first half. Harden poured in 16 in the period and assisted Trevor Ariza for a three-pointer after recording a block as the lone defender during a three-on-one break for the Jazz.
Ariza pushed the Rockets to a 57-55 lead with 5 minutes, 33 seconds left in the period, an advantage Houston did not relinquish in the fourth quarter.
The third quarter marked a departure from the Rockets' second-quarter woes. Houston missed 17 of 24 shots in the second period and closed the half one for 10 from behind the arc.
And while Utah stood at a deficit in paint points and failed to score in transition by the break, the Rockets' errant shooting helped the Jazz to a 44-39 halftime lead.
Utah center Rudy Gobert, making his first appearance following an 18-game injury hiatus, provided an immediate boost during his five minutes in the first quarter when the Jazz outscored Houston by 10 with Gobert on the floor. Houston led 10-2 before surrendering an 11-1 run.
Kings 118, Lakers 115
Sacramento's Rajon Rondo made two big plays late in the game to secure a 118-115 victory over the Los Angeles Lakers at Sleep Train Arena.
Rondo stripped Lakers guard Jordan Clarkson from behind moments after putting the Kings ahead 116-115 on his go-ahead layup with 21 seconds left.
Hawks 126, 76ers 98
Kent Bazemore scored 22 points, nine in a pivotal stretch late in the third quarter, as the Atlanta Hawks beat the mistake-prone Philadelphia 76ers 126-98.
Al Horford and Paul Millsap had 18 points each for Atlanta. Horford also had nine rebounds and three blocked shots, while backup guard Dennis Schroder contributed 14 points.
Bulls 101, Celtics 92
All five starters scored in double figures for the Chicago Bulls, who extended their season-high winning streak to six games with a 101-92 victory against the Boston Celtics at the United Center.
Jimmy Butler and Pau Gasol each had double-doubles to lead the Bulls (22-12).
Butler finished with 19 points and 10 assists, while Gasol had 17 points and 18 rebounds for his 19th double-double this season.
Comments will be moderated. Keep comments relevant to the article. Remarks containing abusive and obscene language, personal attacks of any kind or promotion will be removed and the user banned. Final decision will be at the discretion of the Taipei Times.